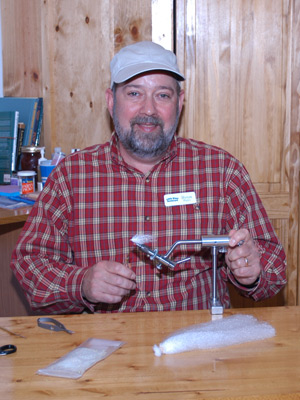 Fly tying is in our DNA at Little River Outfitters. You can tell the minute you walk into our shop. We have a very large fly tying department. You will notice the classroom upstairs, where we hold our fly tying classes during the Winter months. You will also see that we offer free fly tying demonstrations on Saturdays during the Winter. Fly Tying is very important to Little River Outfitters and our customers.
I am designing this section of our website for fly tying articles and tutorials. Here, you can hone your skills, find new patterns to tie or see what it is like to tie a fly. This is the home page for our fly tying and fly pattern articles. As of December 26, 2012 we are beginning this endeavor and this page and it's articles will grow quickly. Check back once a week. There will probably always be something new. Contributors will include me, Steve Yates, Kent Edmonds and others. So, click on an article and enjoy.


This collection of articles and tutorials will appeal to trout anglers, those who fish for warmwater species and even saltwater fly fishermen. As this collection grows, you will see that.
Byron Begley