If you do not see today's Fishing Report, please refresh your browser to empty your cache.
Welcome to the Fishing Report from Townsend, Tennessee in the Great Smoky Mountains. At 4:38 am, the temperature is 55.9 degrees.
Today will be partly sunny with a high temperature in the mid 70's. It will remain warm tomorrow and Tuesday. Expect rain and thunderstorms. Wednesday and Thursday will be cooler, with more rain predicted.
Little River is flowing at 159 cubic feet per second (cfs) or 1.90 feet on the flow gauge. Median flow for this date is 122 cfs. The water temperature is 57.2 degrees this morning.
Fishing is good. Flows are great, not too high and not too low. The water temperature is perfect in the lower elevations this morning, and they will rise in the higher elevations later today.
You may do best with nymphs or dry flies may work. I think I would use nymphs, at first. Fishing conditions this good are rare in November. Except for the spawning browns and brook trout, the rainbows will be behaving like it is Spring. We just don't have the hatches like we do in the Spring. Trout feeding behavior is driven by water temperature. The water temperature is well within their preferred range.
Just get out there, tie on a fly and fish. Figure out what they want. We all may be surprised.
The Park is very crowded. The leaf colors in the low elevations are pretty and the weather is nice.
Fly Tyers Weekend was well attended yesterday. Everyone had a great time. You can see from the photo below, our parking lot was full, and overflow in the field across the street had plenty of vehicles parked there. People also parked the Post Office. The weather was certainly in our favor. It is comfortable in the tent and there is plenty of room for 20 fly tyers and those attending.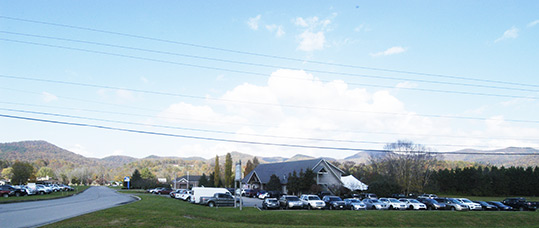 Attendance today may be better. College football games won't be played today. The weather will be beautiful again.
Try to be at the shop today and you will enjoy every minute. CLICK HERE to see who is demonstrating today.
Planning by Dave Carson, Daniel Drake and Anthony Hipps was done well. The same is true of the folks at Casting For Recovery, who served food to the tyers and attendees. All the folks who work at the shop kept LRO organized throughout the day. Volunteers pitched in and helped keep the event on track. The fly tyers and non-profit exhibitors all did a great job, meeting people and making the event a success.
Lucky for me and Paula, we were not responsible for anything. We just talked to old friends and met new friends. I'll be there doing the same thing today.
Fly Tyers Weekend is FREE. Just show up at the shop. You will enjoy your day. So will I.
Have a great day and thank you for being here with us.
Byron Begley
November 5, 2017