If you do not see today's Fishing Report, please refresh your browser to empty your cache.
Welcome to the Fishing Report from Townsend, Tennessee in the Great Smoky Mountains. At 5:29 am, the temperature is 34.5 degrees.
Today will be mostly sunny with a high temperature near 60 degrees. Tonight will be warmer than the past two, with a low of 43 degrees. We have a chance for showers tonight. The warm daytime temperatures will continue through Saturday. Expect highs in the 60's.
Little River is chilly this morning, 46.4 degrees. We will see that number move upward through Saturday.
The river is flowing at 167 cubic feet per second (cfs) or 1.93 feet on the flow gauge. Median flow for this date is 142 cfs.
If you go fishing today, I would wait a while until the water warms. I would start with nymphs, fished deep. You may see some aquatic insect activity, causing the trout to look up and possibly feed on the surface. If you are in that situation, try dry flies. Otherwise, I would stick with nymphs. But, you never know!
You may encounter blue wing olives, small black stoneflies or caddis.
I think this will be a good fishing week, at least through Saturday. Stream flows are good. Water temperatures, though chilly this morning, will improve beginning today. Expect rain late Saturday. The chances range from 60% to 100%. That usually means, it is going to rain. Sunday will be iffy. Cold air will move in with the rain.
Thanksgiving week will be colder. It will still be pleasant during the day, most days, but cold at night. Water temperatures will fall. I don't see snow in the forecast right now in the forecasts, through the end of November.
I have mentioned using tippet rings a couple of times this week. Have you ever used them? If you have, did you experience my frustrations, trying to hold them, to tie on tippet? Those things are tiny. There is a solution, the Ty-Rite Fly Holding tool. They come in two sizes, the Jr. and the Sr. The Jr. is made to hold midges while the Sr. is designed to hold larger flies.
The Ty-Rites are made to hold flies, making it easier to tie them on your tippet. You simply grab the fly by the hook and hold the tool in your hand. Once threaded, you can twist the tool, which in turn, twists the fly, to easily tie a knot. I use these tools and found later, they work perfect for holding tippet rings.
The Ty-Rite has been around for many years. I found my first one on the trail near a stream in the Smoky Mountains. Someone had dropped theirs. I think that small find occurred over 23 years ago, before we got into the fly fishing business. We have been selling them at the shop for as long as I can remember. We sell them for $10.95. I have both sizes. The Ty-Rite Jr. is the appropriate size for small tippet rings. I use the Sr. when fishing from our boat for warmwater species, using larger hooks and tippet rings.
I thought you might be interested in seeing these inexpensive life changing tools. You can find them on our new online store by CLICKING HERE. You will go to our large "Accessory" category. Both Ty-Rites are on page 8. Ground shipping is free if you decide to buy. Look at all of the accessories. You may find things that you do not know exist. I will be adding more to our online store this Winter.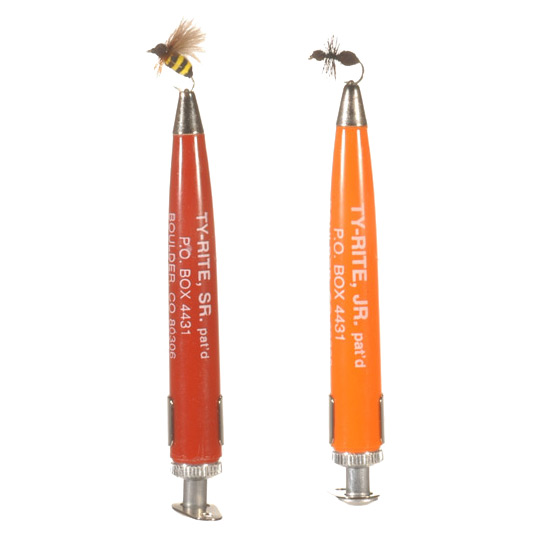 Paula and I are cleaning up our forest. Trees and limbs have fallen over the years. The wooded part of this property is 10 acres. This may take years! I have two chain saws that are running perfect. The big one is in the shop, at Ace Hardware in Townsend. I should get it back this week. I have an old Gator that is not running. I planned to get it back into service this Summer, but I ended up working more than full time, on our new online store instead.
The local John Deere dealer is delivering a new Gator to us today. When I get the old one running, we'll have two. Maybe we can hold Gator races. The old one has six wheels and 4-wheel drive. The new one has 4 wheels and it is a 2-wheel drive model.
Our neighbor has a burn pile where we will put the small stuff and brush. He burns wood, including pine at their home. So they will get the logs.
I know from experience, chain saw work is hard work. It is amazing how quickly you can get this kind of work done, if you have the right tools. That is how I will spend my days off this Winter and I'm looking forward to it. On bad weather days, I'll tie flies.
Here is an interesting story on the WBIR website. Tennessee Valley Authority is using side imaging sonar to inspect their dams, of which there are many around here. Check it out by CLICKING HERE.
Have a great day and thank you for being here with us.
Byron Begley
November 15, 2017