If you do not see today's Fishing Report, please refresh your browser to empty your cache.
Welcome to the Fishing Report from Townsend, Tennessee in the Great Smoky Mountains. The rain has slowed but the Little River is high and still rising. There is no fishing to be done in the Smokies today. All the rivers on both sides of the mountains will be too high to do any kind of safe fishing.
Little River is unfishable today. The gauge is currently at 7.22 feet or 5450 c.f.s. This is well above the daily normal flow of 282 c.f.s. Check out the graph. According the the USGS site flood stage is 8 feet. We aren't very far off of that number.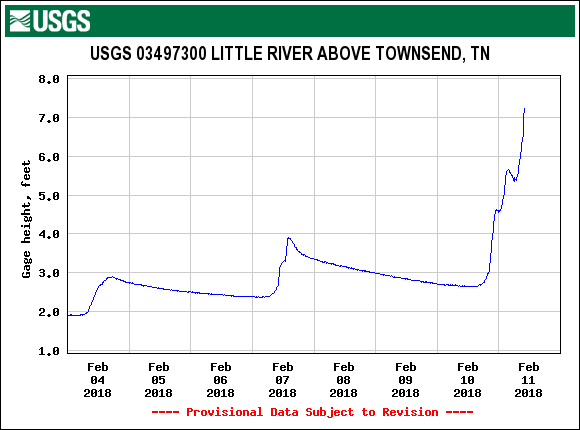 Water temperatures are up and should stay warm all week. This is going to help get the spring hatches started. The first insects we'll see are Quill Gordons and Blue Quills. They are at the opposite ends of the size spectrum. Quill Gordons are large mayflies in the #10 to #12 range. Blue Quills are very tiny being generally in the #18 to #20 range. Something important about the Quill Gordons is that they hatch into adults under the surface of the water and then swim up to the top to emerge. This means that they are very vulnerable at this time. A traditional wet fly pattern is a very production fly during a hatch. More Quill Gordons get eaten trying to get to the top than eaten after the reach the surface.
I looked at the TVA site for Norris / Clinch River. They are actually showing a fishable flow today. It looks like they have it turned off from 9 am until 8 pm today. That might be an opportunity to get out on the water if you are willing to fight the damp weather.

Next weekend we have a Beginner Fly Tying Class. There is still space to get in on the class. The price is just $85.00. It is an all day class. If you've been thinking about tying flies this is a great way to start. Give us a call to reserve your spot 865-448-9459.
Once again, water levels are way to high to fish the Smokies today. Hopefully levels will be better in a few days. Keep checking in.
Have a great day and thank you for being here with us.
Daniel Drake
February 11, 2018