If you do not see today's Fishing Report, please refresh your browser to empty your cache.
Welcome to the Fishing Report from Townsend, Tennessee in the Great Smoky Mountains. The rain has stopped this morning. More rain may be on the way later. We should have a break tomorrow and then there is rain on Friday and Saturday.
Water levels are still high in the Little River. This morning the gauge is giving a reading of 3.17 feet or 801 c.f.s. The daily normal is 296 c.f.s. Even though it is lower than it has been over the last couple of day it still looks high and strong.
Water temperatures are up. The gauge is at 48.74 F. We need it to warm a bit more and stay warm to get the bugs moving. Hopefully over the next week the temps will move into that good range.
So what is the difference between spilling and sluicing on the tailwaters? I tried to call several sources and haven't been able to get anyone on the phone. This information may be updated after someone tells me I'm wrong or updates my info. Sluicing is when water is running through gates in the dam. This can be done while they also generate power. Spilling is when the water is being run over the dam. I expect spilling is saved for when they are lowering lake levels due to flood events. I will try to get some better info on this so check back on the report in the next couple of days.
The top picture here is a photo from TVA this week showing water coming out of the sluice gates. The photo below is a photo I found online from some time ago showing the water coming over the top of the dam.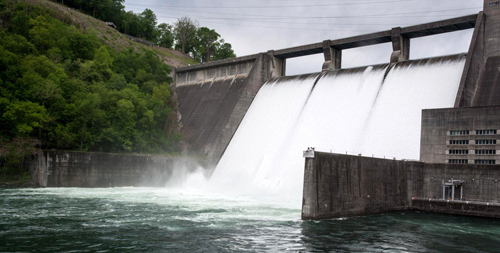 This weekend we have a Beginner Fly Tying Class. There is still space to get in on the class. The price is just $85.00. It is an all day class. If you've been thinking about tying flies this is a great way to start. Give us a call to reserve your spot 865-448-9459.
Have a great day and thank you for being here with us.
Daniel Drake
February 14, 2018