If you do not see today's Fishing Report, please refresh your browser to empty your cache.
Welcome to the Fishing Report from Townsend, Tennessee in the Great Smoky Mountains. At 5:40 am, the temperature outside is 39.2 degrees.
Today will be another nice one, partly sunny with a high temperature in the 60's. There is a fairly good chance for rain tonight. Expect a low temperature in the upper 40's. Rain is likely tomorrow morning. Thunderstorms are possible. The high temps will reach the low 70's. Sunday will be mostly sunny, with a high in the 60's. Light rain is expected during the period, except in thunderstorms.
Little River is flowing at 267 cubic feet per second (cfs) or 2.15 feet on the flow gauge. Median flow for this date is 367 cfs. The water temperature is 44.2 degrees, up from 39.7 degrees yesterday morning at this time.
Water temperatures will continue to rise today and through the weekend. We will enjoy warm days and nights through Sunday evening. It seems likely to me, we'll see the water temperatures rise into the 50's. Fishing will be good this weekend, barring any heavy rain in thunderstorms tonight.
Be ready with Spring dry fly patterns in your fly box. Certainly have some Quill Gordon, Blue Quill and Blue Wing Olives ready. This is the second round of Spring conditions, so you may see other mayflies, stoneflies and caddis on the water. It is always a good idea to have a few Parachute Adams dry flies, in different sizes, in your fly box. This pattern mimics many Spring mayfly hatches.
You may see hatches during the day, especially in the afternoons. I think trout will be rising to dry flies at some point this weekend, and maybe today. If the trout are not interested in dries, use nymphs, or a Quill Gordon wet fly. Good nymph patterns in the Spring include Pheasant Tails, with or without beads.
I really don't know what aquatic insects you will see this weekend. The weather has been hot, cold, and now warm again, which is not unusual. The Spring hatches started early this year.
Whatever you encounter on the streams this weekend, you will be there during an enjoyable time. Trout will be active. You will have to figure out what they want to eat.
Appalachian Bear Rescue (ABR), has been tracking some of the 266 black bears they have grown to be released into the wild. ABR is located a few hundred yards from our home. The location is not available to the public. You can't visit. They want to avoid all contact with the bears and humans as possible.
Some 42 tracking collars have been used in a study, to determine the travel history of these bears. Over time, the collars fall off the animals, then are retrieved by one of the curators, Coy Blair.
Coy has been out, looking for the dropped collars, to be analyzed, and found them all. I read an interesting article about this research this morning, on the Daily Times website. You can read it by CLICKING HERE.
The fly fishing world is writing and reading about the passing of Lefty Kreh. We were friends, so I have been reading the articles, like you probably have. I found a good one, written by a man who knew Lefty well, and understood the importance of Lefty's humor. When I read it, I smiled. He heard Lefty say some of the same, or close to the same, one liners, that I heard when Lefty and I were together.
This is a great article, on the Anglers Journal website. You can read it by CLICKING HERE.
Tradd Little's Dad, Rusty, sent me the photo below taken four years ago. They were at a fly fishing show, and Lefty took the time to give Tradd some casting tips, and pose for a photo.
Many of you know Tradd. He demonstrates his fly tying skills, which are amazing, at shows and fly shops from Georgia, to New Jersey, to Arkansas, and points in between. It makes me happy, that Tradd was able to meet Lefty Kreh.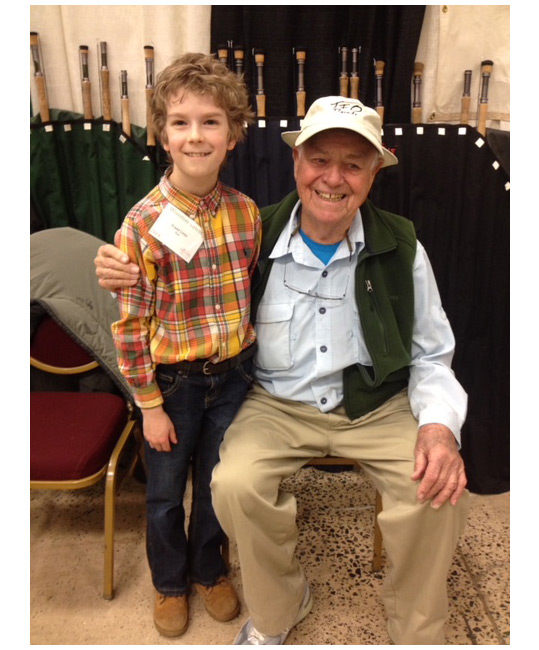 Have a great day and thank you for being here with us.
Byron Begley
March 16, 2018