If you do not see today's Fishing Report, please refresh your browser to empty your cache.
Welcome to the Fishing Report from Townsend, Tennessee in the Great Smoky Mountains. At 5:23 am, the temperature outside is 30.4 degrees.
Today will be sunny and warmer, with a high temperature in the low 60's and a low tonight in the upper 30's. Friday will be warm again, with the temps climbing to the mid-60's. Rain is predicted Friday night and Saturday. Colder air moves into our region Saturday through Sunday. Expect highs in the 50's and a low Saturday night at or below freezing again.
Little River is flowing at 299 cubic feet per second (cfs) or 2.23 feet on the flow gauge. Median flow for this date is 359 cfs. The water temperature is 49.3 degrees this morning. The highest water temperature yesterday was around 59 degrees.
Little River was rising yesterday and peaked around 2 pm at 2.5 feet.
A 10-degree plunge in the water temperature overnight might slow fishing some this morning. The water will warm today and fishing will improve later.
I would start with nymphs this morning, fished deep. As the day progresses, you may decide to switch to dry flies. Many different dry fly patterns may work. If you see a hatch, and trout rising, tie on a fly that looks like what you are seeing. They could be small or large. They could be varying species.

I think I would keep it simple and stick with a Parachute Adams in several sizes from #12 to #16 and maybe smaller. I would have some black caddis or stonefly patterns in my box, in small sizes. You may want to have some Blue Wing Olive dry flies too.
I would also go prepared with wet flies. A Hare's Ear wet fly is a good pattern to use in the Spring.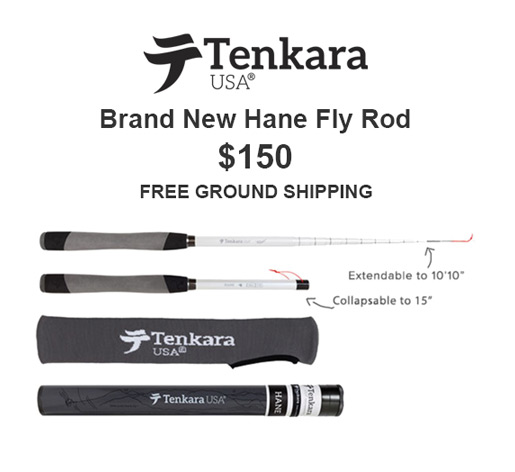 Tenkara USA asked us not to say anything about their new fly rod until today, April 5th. So, I didn't. As of yesterday, they did not have the rod on their website. When I checked just after 5 am this morning, it was there.
I designed a page on our online store for the new fly rod yesterday, but turned it off so nobody could see it. Early this morning, I turned it on. You can see the page and order online by CLICKING HERE.
So, the new rod is called the "Hane", pronounced "hun-neh". The Hane collapses to 15". Extended, the length is 10' 10". As you can imagine, this is the perfect Tenkara rod for backpacking, hiking and traveling.
An order of these rods has been shipped to us from Colorado. Daniel told me yesterday to expect them in a day or two. I took that to mean, today or tomorrow. They may have arrived yesterday.
The rod is white with a black tip. White? Tenkara USA decided to make this model white, so it would blend well with the sky in open areas, like ponds and meadow streams.
What about us? I know people who won't wear a light colored fly patch on their vest, when fishing in the Smokies. I would not wear a white cap or shirt when fishing here.
I don't know if a white fly rod will make a difference in the Smoky Mountains. That would have to be your call. All of the fly reels I use in the Smokies, and everywhere for trout, are shiny silver. Maybe I catch less trout for that reason, but I like silver shiny reels. I think they are pretty.
I do agree, a white rod is probably a very good idea to use out in the open. My first fly rod, bought new in 1962 is white.
I fish often from a boat or kayak. All of the rods are either black or green. Does it really matter? I don't know. If I ever catch a talking fish, I will ask several questions and rod color might be one of them, further down the list.
The Hane is a cool Tenkara fly rod. Tenkara USA is a great company. I'm sure we will sell a bunch of them.
Have a great day and thank you for being here with us.
Byron Begley
April 5, 2018