If you do not see today's Fishing Report, please refresh your browser to empty your cache.
Welcome to the Fishing Report from Townsend, Tennessee in the Great Smoky Mountains. There is light clouds in the area this morning. The forecast is calling for sun and warm temperatures. Our next chance for rain is Saturday but it is only a small chance. A little rain will help to maintain river levels.
Water levels in the Smokies are pretty much perfect. This morning the stream gauge is giving a reading of 2.22 feet or 295 c.f.s. This is just higher than the daily normal of 255 c.f.s. The streams are flowing clear.
Water temperatures in the Smokies have been stable all week and have been rising the last several days. This morning the reading is 57F.
Fishing will be good everywhere across the mountains. A wide variety of insects are hatching right now. For mayflies you may see Light Cahills, Hendricksons, March Browns, Sulphurs etc. Sizes are going to range from #12 to #16. Caddis flies in a variety of colors in sizes #14 - #16. Yellow stoneflies are hatching also. Yellow sally patterns like Neversink Caddis, Rob's Hellbenders and Stimulators in size #12 - #16.
Nymphs continue to be good. We all have our favorites whether it is BH Pheasant Tails, Tellico Nymphs or Prince Nymphs. Remember to get them deep in the stream. The majority of the trout will be within just a few inches of the bottom.
Flows look favorable on the tailwaters. Norris says it is testing generators so I guess that means flows could potentially be inconsistent. The Holston looked good though. Always check with the TVA site before making the drive.
We got a Facebook message from a customer who stopped in yesterday and got set up with a new TFO BVK outfit. He hadn't been fishing in about 10 years and is getting back into it. Heading to the Clinch he found some very good fishing. Topwater must have been crazy over there yesterday because all the flies I picked for him should have been wrong for the Clinch. This rainbow ate a big parachute adams. I guess it isn't only zebra midges all the time when the trout are hungry.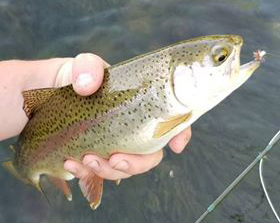 Hopefully you will be able to get out and enjoy this nice weather.
NYMPHING TACTIC CLASS on SATURDAY MAY 5th!
If you have been fly fishing for awhile and just want to improve your skills, we have a Nymphing Tactics Class coming up on Saturday May 5th. In this class you will learn techniques for fishing nymphs more effectively. The first part of the class is here at the Shop where you will work on some new casts and learn about equipment, rigging and theory. Then after lunch the class heads to the river where you will put this new knowledge to practical use. The cost of the class is $150 and includes lunch. There is still plenty of space but you need to call to reserve a spot. 865-448-9459.
Have a great day and thank you for being here with us.
Daniel Drake
May 3, 2018