If you do not see today's Fishing Report, please refresh your browser to empty your cache.
Welcome to the Fishing Report from Townsend, Tennessee in the Great Smoky Mountains. The sun is shining bright over the Smokies today. It is going to be hot again so look for the shade and stay hydrated.
Water levels on the Little River are a very good 1.83 feet or 164 c.f.s. This is higher than the daily normal of 142 c.f.s. The streams are flowing clear.
Water temperatures are creeping higher. This morning the gauge is reading 68.9F. The thermometer is low on the river so you will find better water temps the higher you go. Fishing early in the day and late in the afternoon will be better for both air and water temperatures.
Fishing has been good in the Smokies. Travis Williams with Troutzone Anglers had a client out on the Little River yesterday. They did well on nymphs fished deep. Other anglers are doing well on dries. The regular summer time favorites of Neversink Caddis, Yellow Stimulators and Parachute Adams are good. Terrestrials such as ants, beetles and green weenies are working well.
Mid to high elevation streams are the places to go. There will be a lot of people in town so you may want to try somewhere that is a little off the beaten path. The West Prong of the Little Pigeon River off the side of US 441/Newfound Gap Road can be a good stream this time of year. You can get to higher elevations without the walk. It is also a high gradient stream which helps to keep the water better aerated. Water temperatures are up so try to land the trout quickly and get them back on their way.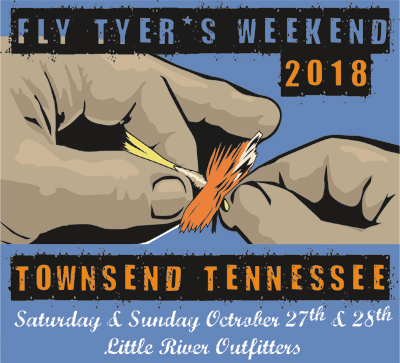 Fly Tyer's Weekend is coming up! We moved it up to October 27th and 28th to move it away from another festival here in Townsend and also to a football friendly weekend. The event is FREE so put it on your calendar to attend. Fly Tyer's Weekend is two full days of nothing but fly tying. We will have about 40+ tyers from around the region do demonstrations in a large tent right behind the Shop.
We did this event last year and it went really well. Keep an eye out for emails with more information as we get closer to the day.
Byron will be back doing the fishing report tomorrow morning. I can't wait to hear how his smallmouth trip went. Have a great day and thank you for being here with us.
Daniel Drake
July 13, 2018