If you do not see today's Fishing Report, please refresh your browser to empty your cache.
Welcome to the Fishing Report from Townsend, Tennessee in the Great Smoky Mountains. At 5:27 am, the temperature outside is 62.2 degrees.
Today will be hot and mostly sunny with a high temperature in the upper 80's in Townsend. Tomorrow will be slightly cooler with a chance for showers and thunderstorms through the evening. Thunderstorms are likely Saturday and Sunday.
Areas in the western North Carolina side of the Smokies, including Cherokee, are subject to possible severe thunderstorms today.

NATIONAL WEATHER SERVICE PREDICTED HIGHS AND LOWS TODAY
| | | |
| --- | --- | --- |
| LOCATION | HIGH | LOW |
| TOWNSEND | 88 | 69 |
| GATLINBURG | 87 | 68 |
| ELKMONT | 83 | 66 |
| NEWFOUND GAP | 78 | 64 |
| MOUNT LECONTE | 74 | 60 |
| CHEROKEE | 83 | 64 |
Little River is flowing at 162 cubic feet per second (cfs) or 1.82 feet on the flow gauge. Median flow for this date is 121 cfs. The lowest flow on this date in 54 years was 49 cfs in 1970. The highest flow for this date was 4,520 cfs in 1971. The water temperature is 68.7 degrees at the low elevation USGS gauge site near Townsend.
The Little Pigeon River is flowing below median flow for the date, while Oconaluftee River and Cataloochee Creek are flowing slightly above median flow.
The streams are warm in the low elevations. Fishing will be best in the mid to high elevations. Backcountry streams are good choices during the hot months. There you can somewhat get away from crowds of swimmers and tubers, found on the larger rivers near roads. Most smaller backcountry streams will be shaded more that the larger, open streams.
Yellow Sally Stonefly patterns and Black Foam Beetles are good choices for a dry fly. Green Weenies, Pink Weenies and small bead head nymphs will work as a dropper off your dry fly, or fished alone and weighted.
The streams are back to low flows for now. Stealth is of the utmost importance to your fly fishing success. Wear clothing that blends with the forest. Keep you body as low as you can, so you are less likely to be seen by the trout. Fish the choppy water where the trout are hiding from predators. Get a good drift. Let your leader, not your fly line land over a good spot to avoid spooking the trout.
I was running errands in Townsend early yesterday morning, before our shop opened. I saw guide David Knapp in our parking lot, waiting to meet his clients for the day. I pulled over to chat. He showed me some of his new Yellow Sally Stonefly creations. They were beautiful and looked like a Yellow Sally to me. They had nicely placed, tiny rubber legs. David is an excellent fly tyer and guide and a good friend.
Everyone is telling me the Clinch River is fishing well for trout. I know for a fact the lower tailwaters are fishing well for smallmouth bass. I fished the French Broad, with some friends and guides Josh Pfeiffer and Gary Troutman last week. We had a great day. They have those smallmouth rivers figured out. Their flies are working well. Like most good guides, they furnish the flies for their clients. Theirs were all different from the ones I use.
Below is a photo of my friend Mouse holding his big fish of the day. He was fishing in Gary Troutman's raft with me. That was an exciting few minutes, trying to land that fish. Gary and Mouse worked as a team, while I cheered them on. The fish measured exactly 20" long.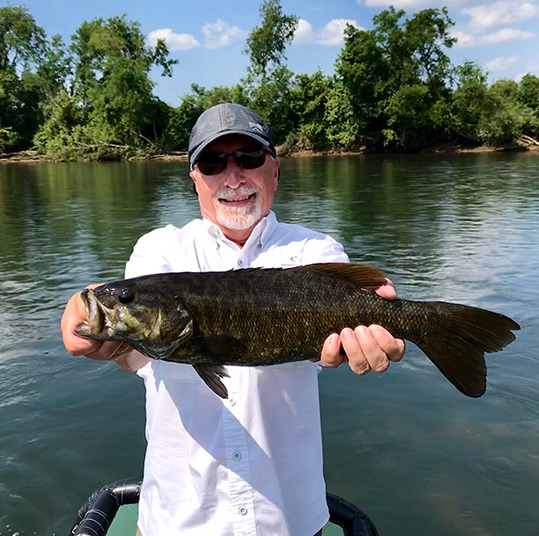 There are times when I enjoy watching my friends or Paula catch big smallmouth bass as much or more than me having the same experience. I have to admit, I would like to have caught that one.
I have not been fly fishing the lakes for over a week. Right now, I'm spending my days off remodeling our boat. I'll be on the lakes again week after next, weather permitting.
Have a great day and thank you for being here with us.
Byron Begley
July 19, 2018

Respond to: byron@littleriveroutfitters.com