If you do not see today's Fishing Report, please refresh your browser to empty your cache.
Welcome to the Fishing Report from Townsend, Tennessee in the Great Smoky Mountains. At 5:49 am, the temperature outside is 68.2 degrees.
It will be warmer this weekend. It will also be dryer. The chance for thunderstorms is low both days.
This has been an unusually wet August so far. 3.35 inches of rain has been recorded near our house in three days. We got .88 inches of rain yesterday. Normal rainfall for the month of August is only 4.57 inches. After this weekend, rain will return to the forecast every day, through August 18th. This will go down on the record as a wet August.
NATIONAL WEATHER SERVICE PREDICTED HIGHS AND LOWS TODAY

| | | |
| --- | --- | --- |
| LOCATION | HIGH | LOW |
| TOWNSEND | 85 | 68 |
| GATLINBURG | 82 | 66 |
| ELKMONT | 79 | 66 |
| CADES COVE | 81 | 66 |
| NEWFOUND GAP | 75 | 62 |
| MOUNT LECONTE | 65 | 56 |
| CHEROKEE | 84 | 63 |
| SMOKEMONT | 78 | 63 |
Little River is flowing at 631 cubic feet per second or 2.86 feet on the flow gauge. Median flow for this date is 119 cfs. The water temperature is 64.0 degrees this morning.
All streams that have USGS gauge sites are flowing considerably higher than normal. They include Little River, Little Pigeon River, Oconaluftee River and Cataloochee Creek.
Streams will slowly recede this weekend and fishing will improve. I consider a gauge reading of 2.5 feet to be on the high side of good. It won't be long until that number is met. There is a slight possibility, an isolated thunderstorm could impact the stream you are fishing today or tomorrow.
I would fish a small stream, East Prong of Little River above Elkmont, Lynn Camp Prong or the West Prong of Little River. There are many other streams to choose from, but these are close to home. Wherever you go, the water will be swift. Fish from the edges and don't take chances wading across, unless you are sure you can safely do so.
I think you will do best using nymphs. You may want to add extra split shot to get them down. I would use a Green Weenie, a Bead Head Pheasant Tail or any reasonable nymph pattern. Dry flies may work as well. Foam beetles, a Yellow Neversink Caddis, Yellow Stimulator or a Parachute Adams should work. Don't be surprised if the trout are not looking up. These strong currents are likely sending plenty of food to the trout, beneath the surface.
If you are not accustomed to fishing nymphs, without a strike indicator, by all means, put one on. Vary the distance between your indicator and fly, to best present your nymph where you are fishing.
Higher water usually allows you to fish close. The trout are less likely to see you, especially in the broken water. Still, wear clothing that blends with the forest.
The Fishing Gauge pointed to good yesterday, because the stream flows were more angler friendly, early in the morning when I wrote this report. The heavy rain was a surprise to me. Customers were coming in the shop talking about how high Little River was flowing.
My closest friends and I lost one of our best buddies, night before last, after a long illness. His name was Brad Park. He lived in Berea, Kentucky, with his wife Sundae. I remember hanging around with Brad before we started grade school, in the 1950's. We have been friends ever since. Brad, Frank, Mouse, Wayne and I have had some great times together. We called ourselves, "The Buddy Boys", something Brad came up with.
We all fly fish, and have traveled just about everywhere together. He was the last to take up the sport, about 17 years ago.
Paula and I will be going to Brad's funeral Monday. My condolences and prayers go out to Sundae, Brad's two daughters, his brother and two sisters, and grandchildren. We are all missing Brad. Everyone loved Brad. We all love Sundae too.
Paula and I were sitting on the front porch last evening, talking about Brad and Sundae. A bear walked by us on the lower driveway. He stopped, looked up at us, and sniffed the air, hoping to smell food. They usually do that.
He stopped again, just past the boat house, and looked up the stairs leading up to our deck and porch where we were standing. I thought for a second, he was going to walk up the steps toward us. Had he done that, we would have quickly retreated into our home. Paula took the photo below with her phone. He decided to keep walking along the drive and disappeared into the forest.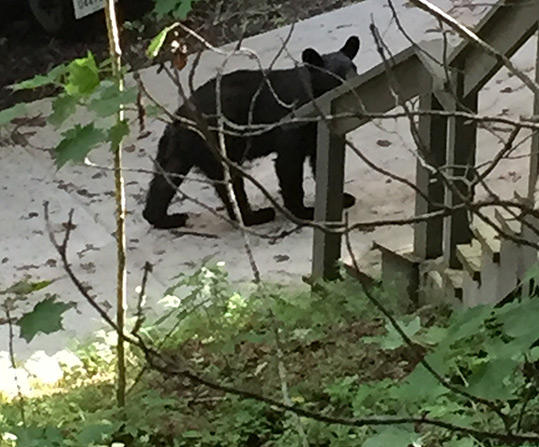 We love watching bears walk by. Some years there are many. This year, we have seen only a few. Those moments are brief. They probably occur much more often than we know. This bear was small. Some are huge. The cubs are cute. It is nice living with bears, so far.
Have a great day and thank you for being here with us.
Byron Begley
August 4, 2018