If you do not see today's Fishing Report, please refresh your browser to empty your cache.
Welcome to the Fishing Report from Townsend, Tennessee in the Great Smoky Mountains. There is a light overcast this morning. The forecast is calling for partly sunny today.
It will be warmer today. Tomorrow is going to be 90. Sounds like a great day to head to the shade and cool of the mountains. Rain and cooler weather returns this weekend.
NATIONAL WEATHER SERVICE PREDICTED HIGHS AND LOWS TODAY

| | | |
| --- | --- | --- |
| LOCATION | HIGH | LOW |
| TOWNSEND | 87 | 66 |
| GATLINBURG | 86 | 65 |
| ELKMONT | 82 | 63 |
| CADES COVE | 84 | 66 |
| NEWFOUND GAP | 77 | 59 |
| MOUNT LECONTE | 67 | 55 |
| CHEROKEE | 84 | 62 |
| SMOKEMONT | 78 | 62 |
| BRYSON CITY | 85 | 62 |
This morning the Little River is flowing at 2.01 feet or 218 c.f.s. The daily normal is 109 c.f.s. Water temperatures are a very nice 65.7F. We can't really ask for better conditions than we have right now.
Fishing has been good across the Park. Water levels are higher than normal for this time of year so some of the regular late summer locations might not be as good. These are those hard to access streams that we wait for low water to fish. Upper Raven Fork comes to mind.
Travis Williams with Trout Zone Anglers commented that they are catching some nicer than average rainbows and browns lately. This photo is from a trip a few weeks ago. Greg Hall nymphed this monster up on the Little River.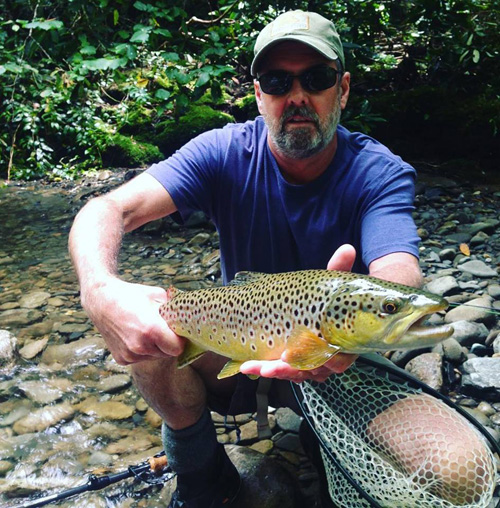 Dry flies have been working well. Rob's Hellbenders and Yellow Stimulators are great this time of year. Dropping a Green Weenie below it is a good option. Don't forget about terrestrials like beetles and ants.
Have you been in to see the Fly Tying Department lately? Byron has been working hard to keep the walls stocked. He's got new tags on everything. I think vises is his new project. He re-did an old display rack we had. At one point it was a hat or t-shirt display. Now it is all shiny and polished and is displaying all the vises. The fly tying materials aren't listed on the Online Catalog but we ship them out all the time. All you need to do is give us a call with what you'd like to order.
Have a great day and thank you for being here with us.
Daniel Drake
August 15, 2018