If you do not see today's Fishing Report, please refresh your browser to empty your cache.
Welcome to the Fishing Report from Townsend, Tennessee in the Great Smoky Mountains. It was raining here in Maryville this morning as I started the fishing report. The storm was isolated. Rain fell in yesterday in Townsend but didn't change water levels. It even cleared out enough to have blue skies for the Balloon Festival.
Updating the weather forecasts on the chart below it seemed like everywhere was going to be a degree or two higher than yesterday for the highs but the same or lower for the lows. Considering that it is the middle of August I don't think we could ask for better weather than we have been having.
NATIONAL WEATHER SERVICE PREDICTED HIGHS AND LOWS TODAY

| | | |
| --- | --- | --- |
| LOCATION | HIGH | LOW |
| TOWNSEND | 82 | 67 |
| GATLINBURG | 80 | 64 |
| ELKMONT | 80 | 62 |
| CADES COVE | 80 | 67 |
| NEWFOUND GAP | 78 | 61 |
| MOUNT LECONTE | 64 | 55 |
| CHEROKEE | 82 | 64 |
| SMOKEMONT | 76 | 62 |
| BRYSON CITY | 83 | 65 |
This morning the Little River is flowing at 1.83 feet or 164 c.f.s. This is higher than the normal of 106 c.f.s. Water temperatures are a good 68 F.
Scattered storms rolled through the area yesterday. Water levels didn't rise very much at all. The rained cleared out just in time for the Balloon Fest. Last year it was a traffic fiasco. There was cars lined up all the way down the highway to Kinzel Springs. This year traffic was fairly smooth with plenty of parking.
We got reports of slow fishing from the Smokies. I'm guessing it was due to unstable weather. When the weather is sketchy it can mess with fishing....or make it incredible. Sometimes there is no way to know other than going.
If I was headed to the Smokies today I would try a dry/dropper. A Yellow Stimulator for the indicator and a Green Weenie as the dropper would be my first choice. Beetles and ants could be a good.
I added a new category to the Online Catalog. It is the Stickers and Gifts Catagegory. So far I added most of the Nate Karnes Art stickers. There is still a few more that I need to get the pictures for. I'll be adding the TN Fly Co stickers next. Check it out when you get the chance.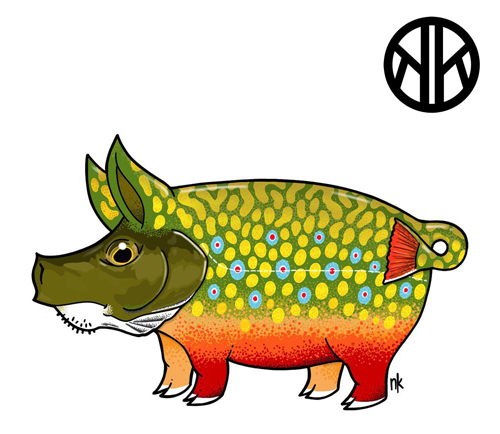 Have a great day and thank you for being here with us.
Daniel Drake
August 19, 2018