If you do not see today's Fishing Report, please refresh your browser to empty your cache.
Welcome to the Fishing Report from Townsend, Tennessee in the Great Smoky Mountains. At 5:32 am, the temperature outside is 57.2 degrees.
Today will be sunny and cool again. It feels like Fall. Tomorrow will be warmer, but still no rain. Sundays weather will be about the same as tomorrow. We probably will not see rain again until Tuesday. Through next week, there should be plenty of rain. We will have some hot days thrown in too.
NATIONAL WEATHER SERVICE PREDICTED HIGHS AND LOWS TODAY

| | | |
| --- | --- | --- |
| LOCATION | HIGH | LOW |
| TOWNSEND | 79 | 59 |
| GATLINBURG | 77 | 58 |
| ELKMONT | 77 | 56 |
| CADES COVE | 77 | 59 |
| NEWFOUND GAP | 73 | 51 |
| MOUNT LECONTE | 64 | 49 |
| CHEROKEE | 80 | 54 |
| SMOKEMONT | 73 | 54 |
| BRYSON CITY | 81 | 55 |
| MAGGIE VALLEY | 76 | 53 |
| COSBY | 80 | 57 |
Little River is flowing at 141 cubic feet per second (cfs) or 1.77 feet on the flow gauge. Median flow for this date is 103 cfs. The water temperature is 64.9 degrees this morning.
Apparently, most streams in the Smoky Mountains are flowing above normal for this date. However, normal this time of year is low. Flow rates will continue to decline through the weekend.
Stealth will be your advantage. Dress to blend with the forest. Fish the choppy water. Concentrate on shaded areas of streams. Go early or late. The trout will be hiding from predators. They will be in deep runs, pockets in riffles and near cover.
The streams will be warm in the low elevations. Fishing will be best in the mid to high elevations. In the Little River watershed, I would fish near or above Elkmont, the upper Middle Prong of Little River, Thunderhead Prong or Lynn Camp Prong.
Try terrestrials. Land based insects are a critical food source for trout during the hot months. A black foam beetle is a good choice. Green Weenies will work. Try a floating ant. A Parachute Adams or Yellow Stimulator are good choices too. Drop a Weenie or bead head nymph off your dry fly.
I heard yesterday, the Clinch River is fishing well, for trout. The same is true of the lower sections of tailwaters, where you will find smallmouth bass.
I don't know what is happening on the lakes. Maybe I will find out next week. I would go early or late over the next few days, because of the predicted lack of cloud cover through the weekend.
Jack came over yesterday to pick up some tools. He and Paula have been remodeling our master bedroom and bath. She and I have been living in the guest room for six weeks. The new bed and bath is finished.
We were sitting in the keeping area near the kitchen, talking. Jack saw a bear walking by the door leading outside. The bear was just walking slow. Paula took the photo below with her phone, then opened the door. The bear heard the door open, changed directions and walked quickly back into the forest.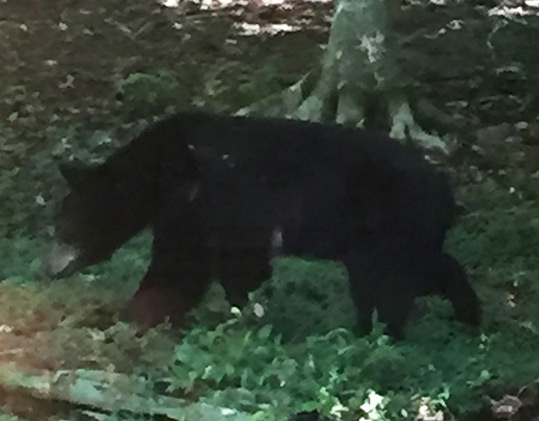 We have only seen a few bears around our house this year. We usually see many more. They come and go so quickly, you have to be at the right place, at the right time, to see one. I suppose we have been doing things other than looking out into the forest this year.
They are out there, more often than we know. Our neighbors have seen plenty this year, like normal.
Not a day goes by I don't see at least one wild turkey. They are always around. The young of the year birds look like adults now, just smaller. They fly well and often. This Fall they will all group together, forming a large flock or maybe two flocks. A flock usually has 20 to 30 birds. All Winter long, we will see plenty of turkeys.
When the bears become inactive, I can put our bird feeders out again. I am looking forward to that. I have to take them down in the early Spring. If I don't, the bears will tear them down for me.
I left a feeder out too late one year. There was no seed in it. I thought it would be OK. During the night I heard a loud crash. I didn't hear any more noise, and went back to sleep. The next morning, I saw the feeder, laying on the steps leading outside. It was destroyed, having been torn off the 4 x 4 post. While I was watching, a bear walked out of the woods, right back to the scene of the crime. He proudly examined the remains of the splintered wood feeder I made myself, then turned and walked away.
Have a great day and thank you for being here with us.
Byron Begley
August 24, 2018