If you do not see today's Fishing Report, please refresh your browser to empty your cache.
Welcome to the Fishing Report from Townsend, Tennessee in the Great Smoky Mountains. It is cool and overcast this morning. The forecast is saying that the sun is going to come out sometime today. For the rest of the week the weather looks to be more of the same. Watch for spotty afternoon storms.
NATIONAL WEATHER SERVICE PREDICTED HIGHS AND LOWS TODAY

| | | |
| --- | --- | --- |
| LOCATION | HIGH | LOW |
| TOWNSEND | 82 | 66 |
| GATLINBURG | 81 | 65 |
| ELKMONT | 78 | 63 |
| CADES COVE | 80 | 64 |
| NEWFOUND GAP | 73 | 61 |
| MOUNT LECONTE | 69 | 58 |
| CHEROKEE | 80 | 64 |
| SMOKEMONT | 74 | 63 |
| BRYSON CITY | 81 | 64 |
| MAGGIE VALLEY | 75 | 63 |
| COSBY | 79 | 64 |
Fishing conditions across the Smokies have been good. Rain fell yesterday afternoon raising water levels but they are back down already. Water levels are quite a bit higher than normal for this time of year. The gauge on Little River is giving a reading of 2.15 feet or 256 c.f.s. This is higher than the daily normal of 84 c.f.s. Water temperatures are at 68 F.
Mid to higher elevations have been fishing well. Good reports are coming from Lynn Camp Prong, and Little River above Elkmont. I haven't talked to any one who has been fishing the West Prong of the Little Pigeon up along Newfound Gap Road. It is usually a good destination this time of year.
A variety of different fly patterns are working right now. For dries, Neversink Caddis, Rob's Hellbenders, Stimulators, Yellow Parachute Adams, Thunderheads etc in #14 - #16 have been fishing good. Dropping a nymph, especially a green weenie or pheasant tail, doubles your chance. An ant also makes a great dropper fly.
It doesn't look like there is much fishing to be done on the area tailwaters unless you have a boat. The South Holston is sluicing, the Clinch is generating. Time to plan a trip to the mountains.
There are some great fly fishing events coming up in the next couple of months. In just a couple of weeks The Battle of Gatlinburg is happening on Saturday September 22.
"The "ONE FLY ROYALE" is being presented to you again by the Great Smoky Mountain Trout Unlimited Chapter, Tennessee's oldest Trout Unlimited chapter. This one of a kind tournament will have anglers competing again for cash and prizes from our sponsors. The angling competition will be centered in downtown Gatlinburg, TN with the background of our beautiful Great Smoky Mountains framing one of the most unique fishing opportunities in the world." for more information CLICK HERE or on FACEBOOK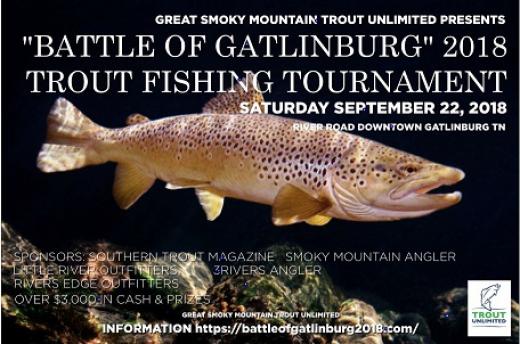 Another event to have on your calendar is Fly Tyer's Weekend. This FREE event is happening right at the Shop on October 27 and 28th. Right now we have more than 40 fly tyers coming to demonstrate fly tying during this two day expo. There is even going to be someone showing how to make furled leaders. Last years FTW was a great success and this year is going to be even better. For more information give us a call at the Shop or CLICK HERE.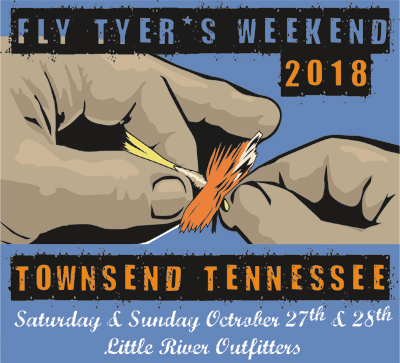 Have a great day and thank you for being here with us.
Daniel Drake
September 11, 2018