If you do not see today's Fishing Report, please refresh your browser to empty your cache.
Welcome to the Fishing Report from Townsend, Tennessee in the Great Smoky Mountains. At 5:25 am, the temperature outside is 66.7 degrees.
It will be warm this week, with a very small chance for rain. Temperatures will be much warmer than average, until mid-month. Not much rain is predicted during the period. October is normally a very dry month. In fact, October is historically our driest month of the year.
NATIONAL WEATHER SERVICE PREDICTED HIGHS AND LOWS TODAY

| | | |
| --- | --- | --- |
| LOCATION | HIGH | LOW |
| TOWNSEND | 80 | 64 |
| GATLINBURG | 78 | 63 |
| ELKMONT | 75 | 63 |
| CADES COVE | 76 | 64 |
| NEWFOUND GAP | 71 | 60 |
| MOUNT LECONTE | 60 | 54 |
| CHEROKEE | 80 | 61 |
| SMOKEMONT | 73 | 60 |
| BRYSON CITY | 80 | 61 |
| MAGGIE VALLEY | 75 | 60 |
| COSBY | 79 | 63 |
Little River is flowing at 212 cubic feet per second (cfs) or 2.02 feet on the flow gauge. Median flow for this date is 79 cfs. The water temperature is 66.5 degrees this morning.
All streams in the Park that have USGS flow gauges are reporting higher than normal flows.
Fishing is good in the Smokies. I talked to several customers in the shop yesterday, who are enjoying our near perfect fishing conditions. One customer drove over from Smokmont where he is camping for three weeks. The jaws on his fly tying vise broke, so he bought a new vise. He told me stream flows there are great. He did endure last week's deluge, but now the weather is fine for him.
Dry flies and nymphs are working well. Any reasonable fly patterns will produce. The trout are hungry, due to the warmer than normal water temperatures. Their metabolism is in high gear at all elevations. I would use a Parachute Adams, Yellow Stimulator, Yellow Neversink Caddis, Smoky Mountain Candy or a foam beetle for my dry fly. My nymph selection would include a Green Weenie, Tellico, Prince, or just about any typical Smokies pattern.
Stealth and presentation are probably much more important than fly selection this time of the year. If you don't spook the trout, and your fly is drifting with the current without drag, you should catch trout.
The brown and brook trout are dressed in their spawning colors now. You may see adult browns out in the open, even on sunny days, as they are in pre-spawn mode.
Because of the hot abnormal temperatures, and the warmer than normal water temperatures in some lower elevation rivers in East Tennessee, Tennessee Wildlife Resources Agency (TWRA) has not begun their usual Fall trout stocking effort. Some rivers are too warm to stock. The trout may die. This has also affected the Hiwassee River, in the tailwater section.
Little River, outside the Park is usually stocked with trout this month. I bet TWRA is waiting.
Conditions should change in two weeks, and hopefully the stocking will occur. You can read more on the WBIR website by CLICKING HERE.
This does not affect Great Smoky Mountains National Park, which is not stocked with trout. The trout in the Smokies are wild except for some trout stocked in streams outside the Park, that migrate up the rivers.
The lowland rivers should be fishing fairly well. Flows are higher than normal.
Lake surface temperatures are dropping some. I will be fishing on a lake or two this week. We'll see how that goes.
I worked ten hours yesterday, with most of that time spent ordering fly tying materials and tools. I ordered from Wapsi, Umpqua, Hareline Dubbin and Gamakatsu. Daniel ordered some Renzetti vises and tools. Last week was a big week in that department. I order from Wapsi every week, and from the others, every other week, to keep those items in stock.
Next week I will order "extra heavy", because Fly Tyers Weekend is coming soon. There will be a lot of fly tyers in the shop that weekend.
After searching for almost a week, they have still not found Mitzie Sue Clements. She was hikng with her daughter last Tuesday. Her daughter hiked on to the Clingmans Dome Parking lot and waited for her mother, who never showed up.
The Clingmans Dome road is closed. That is the base of operations. About 125 trained search and rescue people are combing the area. I think I read somewhere they have searched about 500 miles of trails. The searchers are here from 5 states. Helicopters, drones and tracking dogs are being used. Verizon placed a mobile cell tower at the dome, to aid in providing communications for the searchers.
Bad weather last week hampered the search. Weather conditions are good now.
These people are now working off-trail. You can read more on the WBIR website by CLICKING HERE.
Have a great day and thank you for being here with us.
Byron Begley
October 2, 2018
Respond to: byron@littleriveroutfitters.com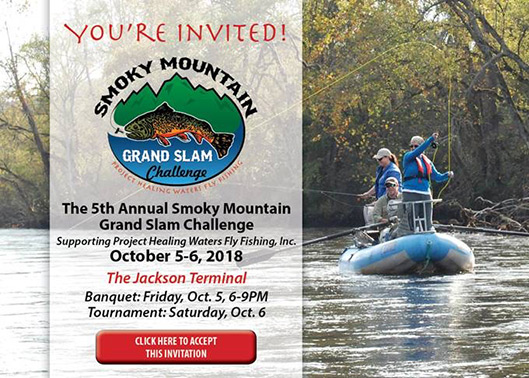 You do not want to miss Project Healing Waters, Smoky Mountain Grand Slam event this weekend. It all starts Friday night October 5th, at the fundraiser banquet. The banquet will be held at The Jackson Terminal in Knoxville at 6 pm. CLICK HERE TO BUY TICKETS and learn more.
Among the auction prizes, are some flies tied by Walter Babb. One box, Walter calls the "Back Country Dry Flies" contains 12 dozen flies. Walter's flies are cherished my many anglers, and this is a huge collection. Walter also donated three more boxes with 6 flies each, that will be auctioned.
Jackson Terminal is located at 213 W. Jackson Avenue in Knoxville. Be there!