If you do not see today's Fishing Report, please refresh your browser to empty your cache.
Welcome to the Fishing Report from Townsend, Tennessee in the Great Smoky Mountains. At 5:32 am, the temperature outside is 64.6 degrees.
Much warmer than normal temperatures are going to be with us for several days. There is only a slight chance for rain today, and through the weekend.
NATIONAL WEATHER SERVICE PREDICTED HIGHS AND LOWS TODAY

| | | |
| --- | --- | --- |
| LOCATION | HIGH | LOW |
| TOWNSEND | 82 | 65 |
| GATLINBURG | 80 | 64 |
| ELKMONT | 77 | 64 |
| CADES COVE | 78 | 65 |
| NEWFOUND GAP | 73 | 60 |
| MOUNT LECONTE | 61 | 55 |
| CHEROKEE | 82 | 62 |
| SMOKEMONT | 75 | 60 |
| BRYSON CITY | 82 | 62 |
| MAGGIE VALLEY | 77 | 61 |
| COSBY | 80 | 64 |
Little River is flowing at 190 cubic feet per second (cfs) or 1.95 feet on the flow gauge. Median flow for this date is 74 cfs. The water temperature is 65.3 degrees this morning.
Most streams in the Smokies are flowing slightly above median flow today. Higher than normal flows may not last much longer, as there is little chance for rain over the next few days.
Additionally, water temperatures in the low elevations will rise higher than yesterday, through the weekend. It will be best for the health of trout you release, if you fish the mid to high elevations over the next several days.
Fishing conditions are excellent, for October. October is our driest month. Steam flows are normally low. Water temperatures are good too, in the mid to high elevations.
Trout are active and feeding. Dry flies and nymphs will work. Terrestrial patterns are a good fly choice. Try foam beetles and ants. I would also try the following dry flies, Yellow Stimulator, Parachute Adams, Yellow Neversink Caddis, Orange Stimulator, Elk Hair Caddis or a Smoky Mountain Candy. My nymph choices would be Bead Head Pheasant Tail, Tellico, Prince or a Green Weenie.
Some streams, outside the Park are normally stocked with trout by now for Fall fishing. TWRA has postponed stocking in some streams due to warm water conditions, that will probably exist for several days.
Don't let the stream levels fool you. They are not really flowing that high, just higher than normal in October. Stealth is very important to your success. Dress to blend with the forest and be sneaky. Don't wade much unless you have to.
I'm getting a day off this week. Paula and I are taking our boat to a lake tomorrow afternoon to fish for bass and bluegill, one of my favorite things to do. It may be sunny which could cause fishing to be slow at times. We do plan to fish late, when the sun is off the water. We'll see what happens. If fishing is slow, I don't care. I like going fishing with her and preparing to go.
Large search teams have been looking for Susan Clements in the Smokes near Clingmans Dome for almost a week. They found her body late yesterday. Evidently, her body was located off trail. You can read more on the WBIR website by CLICKING HERE. This story is so sad.
A new campground called "Under Canvas" has opened in Pigeon Forge. There, you can camp in luxury, a form of camping known as "Clamping". This company owns glamping campgrounds near other National Parks, mostly out west. You can learn more on the WBIR website by CLICKING HERE.
Try to go to the Smokies Grand Slam banquet held Friday night. This banquet is a fundraiser for Project Healing Waters. One of the auction items is a box of Walter Babb's hand tied trout flies. Walter's flies are coveted, and always sell to collectors for a high price. This box contains 12 dozen flies. I don't think that many of Walter's flies have been auctioned before. Smaller selections of his flies will be auctioned too. You can learn more by reading below and clicking on the links.
Have a great day and thank you for being here with us.
Byron Begley
October 3, 2018
Respond to: byron@littleriveroutfitters.com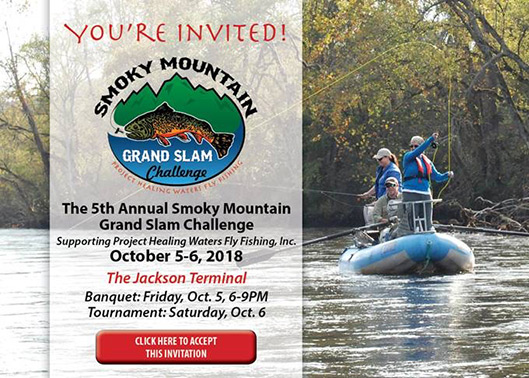 You do not want to miss Project Healing Waters, Smoky Mountain Grand Slam event this weekend. It all starts Friday night October 5th, at the fundraiser banquet. The banquet will be held at The Jackson Terminal in Knoxville at 6 pm. CLICK HERE TO BUY TICKETS and learn more.
Among the auction prizes, are some flies tied by Walter Babb. One box, Walter calls the "Back Country Dry Flies" contains 12 dozen flies. Walter's flies are cherished my many anglers, and this is a huge collection. Walter also donated three more boxes with 6 flies each, that will be auctioned.
Jackson Terminal is located at 213 W. Jackson Avenue in Knoxville. Be there!