If you do not see today's Fishing Report, please refresh your browser to empty your cache.
Welcome to the Fishing Report from Townsend, Tennessee in the Great Smoky Mountains. At 6:23 am, the temperature outside is 64.9 degrees.
Today will be mostly sunny and warm. Tomorrows forecast is almost identical. It will continue to be warm through the weekend, with a slight chance for thunderstorms each day.
NATIONAL WEATHER SERVICE PREDICTED HIGHS AND LOWS TODAY

| | | |
| --- | --- | --- |
| LOCATION | HIGH | LOW |
| TOWNSEND | 83 | 66 |
| GATLINBURG | 82 | 65 |
| ELKMONT | 80 | 63 |
| CADES COVE | 80 | 65 |
| NEWFOUND GAP | 75 | 60 |
| MOUNT LECONTE | 64 | 56 |
| CHEROKEE | 83 | 61 |
| SMOKEMONT | 78 | 62 |
| BRYSON CITY | 83 | 62 |
| MAGGIE VALLEY | 78 | 61 |
| COSBY | 83 | 65 |
Little River is flowing at 167 cubic feet per second (cfs) or 1.87 feet on the flow gauge. Median flow for this date is 79 cfs. The water temperature is 66 degrees this morning.
Little Pigeon River, Ononaluftee River and Cataloochee Creek are all flowing above median flow. These streams and Little River have USGS Gauge sites, that transmit flow data online. Most streams in the Smokies do not.
Flows are great for fishing, much better than normal. Water temperatures are warm in the lowest elevations. If would be best for you and for the trout you release, if you fish the mid elevations or higher.
The East Prong of Little River above Metcalf Bottoms should be cool. Lynn Camp Prong is a good choice. Look for daytime high water temperatures at 65 degrees or cooler.
Dry flies and nymphs will work. Stealth is very important, as well as getting a good drift. It is going to be sunny today, so concentrate on shaded areas. Smaller streams in the backcountry would be a good choice today.
The long term weather forecast indicates Fall-like temperatures will arrive mid-month. Normal temperatures after mid-October range in the 60's to 70 degrees during the day, with lows in the low 40's. Low temperatures in the 30's, usually arrive on October 27th, in Townsend.
But, it has snowed on Halloween. Years ago, Paula and I were backpacking in the Smokies on Halloween weekend. It snowed several inches while we were in the backcountry. That was a fun trip.
We met a huge wild boar on the trail. We urged him to get out of our way, but he followed us for a long time. We could hear him in the forest, behind us, moving in the direction we were going. I probably looked back more than I looked forward on that hike.
After a week-long search, the body of the missing hiker, Susan Clements was found, three-quarters of a mile off trail. The terrain is rough and steep in that area. How she got there is anyone's guess. Foul play is not suspected. A National Guard helicopter was used to remove her body where it was found. You can learn more about this awful story on the WBIR website by CLICKING HERE.
I have been working a lot lately. This is a very busy time of the year for me. I am adding new gear to our online store and on our Fishpondflyfishing.com website. So, I don't take off much, when there are deadlines to be met. This week I am going to have a day off and today is the day.
Paula and I are taking our boat to one of the lakes nearby. This is not a good day to be fishing on a lake. It is predicted to be sunny all day. We'll go this afternoon and probably fish later, when the sun is off the water.
Most larger fish tend to go deep to avoid the sun. It's hard to fish deep with a fly rod, unless you use a sinking line. I just don't enjoy fishing with a sinking fly line. This may end up just being a nice day, cruising on a lake, which is something we both love.
Have a great day and thank you for being here with us.
Byron Begley
October 4, 2018
Respond to: byron@littleriveroutfitters.com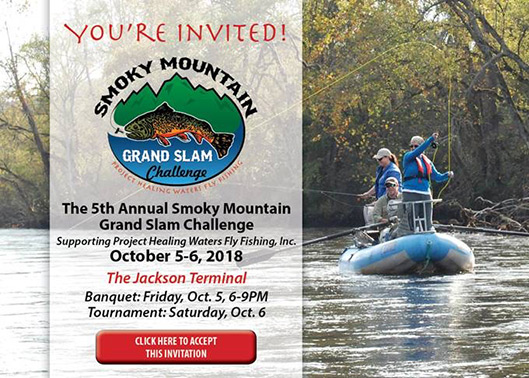 You do not want to miss Project Healing Waters, Smoky Mountain Grand Slam event this weekend. It all starts Friday night October 5th, at the fundraiser banquet. The banquet will be held at The Jackson Terminal in Knoxville at 6 pm. CLICK HERE TO BUY TICKETS and learn more.
Among the auction prizes, are some flies tied by Walter Babb. One box, Walter calls the "Back Country Dry Flies" contains 12 dozen flies. Walter's flies are cherished my many anglers, and this is a huge collection. Walter also donated three more boxes with 6 flies each, that will be auctioned.
Jackson Terminal is located at 213 W. Jackson Avenue in Knoxville. Be there!