If you do not see today's Fishing Report, please refresh your browser to empty your cache.
Welcome to the Fishing Report from Townsend, Tennessee in the Great Smoky Mountains. At 5:48 am, the temperature outside is 53.2 degrees.
Today will be overcast and windy. The wind is blowing strong right now. The temperature you see now will be the high today. Temperatures will fall through the day. The mountains are under a wind advisory until 11:00 am. Gusts to 50 miles per hour are possible.
There is a chance for light snow today and tonight in the higher elevations. It will be very cold tonight, colder tomorrow and even colder tomorrow night. Expect single digit cold temps in the highest elevations tomorrow night.
Warmer air will move into the region by the weekend, but, there is a good chance for rain Friday and Saturday.
NATIONAL WEATHER SERVICE PREDICTED HIGHS AND LOWS TODAY

| | | |
| --- | --- | --- |
| LOCATION | HIGH | LOW |
| TOWNSEND | 49 | 28 |
| GATLINBURG | 48 | 26 |
| ELKMONT | 45 | 24 |
| CADES COVE | 44 | 26 |
| NEWFOUND GAP | 42 | 19 |
| MOUNT LECONTE | 37 | 20 |
| CHEROKEE | 46 | 24 |
| SMOKEMONT | 42 | 22 |
| BRYSON CITY | 46 | 24 |
| MAGGIE VALLEY | 44 | 24 |
| COSBY | 50 | 26 |
Little River is flowing at 283 cubic feet per second (cfs) or 2.22 feet on the flow gauge. Median flow for this date is 184 cfs. The water temperature is 49.8 degrees this morning.
Wind will be the problem today. With temperatures falling through the day, wind chill will be bitter cold.
Water temperatures are OK right now, but they will be falling today, through mid-week.
To be honest, this is probably not a good day to be fishing in the mountains. I can hear the wind howling outside right now. We had a power outage sometime last night.
With the coldest temperatures of the season pending, fishing will slow for a few days, until the warmup predicted by the weekend.
If you go fishing, wait until the wind dies down this afternoon. Dress warm. Keep a dry change of clothes in your truck in case you get wet. I would not venture far from the truck.
Nymphs will probably work best. Fish them weighted and deep. There is a chance for a blue wing olive hatch. If you see that, switch to dry flies and emergers, if trout are feeding on the surface. Blue wing olives love nasty days. Today will be a nasty day.
We will see significantly less traffic in Townsend today. The holiday is over and Winter-like weather is upon us.
I am meeting Walter Babb at the shop this morning to photograph his most recently made bamboo rod. Walter donates a rod to his hometown charity often. The charity raises money for needy people in his home town of Sweetwater, Tennessee. His rod will be auctioned next Saturday.
I don't have the details right now but I will later. I will post the photo and description of the rod on tomorrow's fishing report, along with details on how to bid.
Though the auction will be held in Sweetwater, you can bid over the phone.
This is an excellent opportunity for you to buy one of Walter's coveted bamboo fly rods. More information will be available here, tomorrow!
If I understand the regulations correctly, bear hunting season opens today in our county again, with dogs allowed. There was an earlier season in late September through mid-October, in our county, when dogs were not allowed.
I'm not planning on hunting for bear. I have been invited on a hunt this coming weekend. If I go, I'll just hang around with some friends while they hunt. I have no desire to shoot a bear.
I am interested in feeding the birds. I have two new new 4 x 4 poles, painted them and attached squirrel baffles and feeder hangers. They are standing tall behind our house. I spray painted all of our bird feeders and bought 100 pounds of shelled sunflower seeds. We have been waiting for cold weather, hoping the bears around here would den, before starting feeding the birds.
We could not wait any longer. We're taking a chance, but we did put out two feeders on one pole, anticipating the chance, that they would be destroyed by a bear.
I really don't think the risk is high, especially during the daylight hours. We are bringing the feeders in the house, at dusk. Though the bears have not hibernated, they are wild right now because of the hunting season a few weeks ago, and the second season opening today.
A bear walked by my office window during the last hunting season in October. I went outside to watch him. He heard me step on some dry leaves and took off fast. That is rare around here. They usually just stand there and look at me, sniff the air, then wander on. I'm counting on the hope that the bears are spooky, and will stay away from homes, especially ours.
Have a great day and thank you for being here with us.
Byron Begley
November 26, 2018
Respond to: byron@littleriveroutfitters.com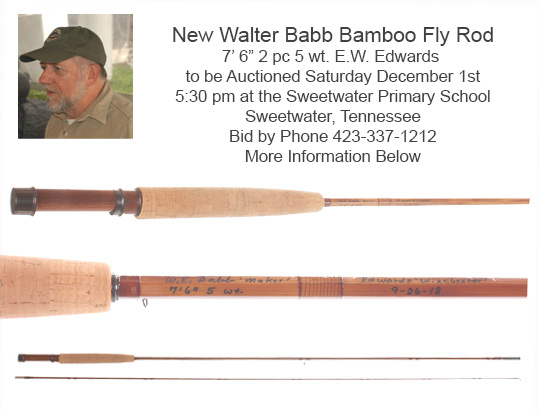 Walter made the rod this Fall as a donation for the non-profit Needy Family Auction held in Sweetwater, Tennessee. The auction will be held at 5:30 pm, at the Sweetwater Primary School on Highway 322. You may bid by phone by calling 423-337-1212.
"The rod made for this year's auction is a 7' 6" 2 piece 5-weight taper originated by E.W. Edwards. He was an employee of the H.L. Leonard Rod Company, and later formed a brief partnership with Ed Payne and F.E. Thomas, Leonard employees who later started their own rod making business.
Around 1915, Edwards discovered his heat treating process, that flamed the cane to a dark brown and added amazing power to the shaft. During the next four years he and is oldest son, William E. built approximately 1,000 bamboo fly rods.
In 1919, Winchester purchased Edward's company and convinced him to supervise rod making. High-end Winchesters built during this period were quality rods. The best Edwards Winchester was the 7 ½ ft. model, which became very popular in the Catskills and made that length the popular stream fixture it is today. Winchester low-end rods were not very good, however and after five years as foreman, Edward left to go out on his own.
This is a flamed single tip rod that casts at all distances. I tested it with a double taper line. It comes with a quality rod bag from CSE and a rod tube made by REC. It would be a good mountain rod for the Smokies and anywhere else.
Additionally, a box of dry flies and dry, dropper type nymphs are to be auctioned separately."
Walter Babb 2018