If you do not see today's Fishing Report, please refresh your browser to empty your cache.
Welcome to the Fishing Report from Townsend, Tennessee in the Great Smoky Mountains. At 9:45 am it is a brisk 26F. Good news though. It is going to warm to almost 40 today and over the next several days the overnight lows are only going to be in the mid 40's. Rain is in the forecast though.
Today is going to be sunny which will make it feel warmer than it actually is. Rain is in the forecast for the next 6 days. There isn't any substantial accumulation but it will be damp. Water levels are moderately high so we will watch and see what this rain does. It is going to be a warm rain which will spike the water temperatures and get the trout active.
NATIONAL WEATHER SERVICE PREDICTED HIGHS AND LOWS TODAY

| | | |
| --- | --- | --- |
| LOCATION | HIGH | LOW |
| TOWNSEND | 37 | 27 |
| GATLINBURG | 36 | 25 |
| ELKMONT | 34 | 25 |
| CADES COVE | 37 | 26 |
| NEWFOUND GAP | 33 | 25 |
| MOUNT LECONTE | 30 | 23 |
| CHEROKEE | 41 | 24 |
| SMOKEMONT | 39 | 25 |
| BRYSON CITY | 41 | 24 |
| MAGGIE VALLEY | 38 | 25 |
| COSBY | 35 | 25 |
Little River is flowing at 2.08 feet or 232 c.f.s. This is almost exactly the daily normal of 231 c.f.s. Last year on this date we set a record low with 23.9 c.f.s. That is a trickle.
Water temperatures crashed last night. This morning the Little River is a chilly 39F. That is in the low elevations. Higher up expect to find some icy areas. The streams should warm today. Look for sunny sections. We will see a dramatic rise in water temperatures over the next several days. Overnight temperatures are what affect water temps the most. If it is warm the streams will stay warm. If it is cold, water temps will drop.
If you do head to the river today nymphs are going to be your best choice. I would get them a close to the bottom as you can. This is going to mean adding split shot. It usually put is a few inches above the fly. Where you pinch the shot onto the line will determine how your fly will ride in the water. To me, putting it closer to the fly helps make casting easier also.
Tailwater fishing is still out. Norris is sluicing, Cherokee is spilling. I have talked to a couple of anglers who have been out on the Delayed Harvest streams in the mountains and have done well. Mark with Chota went to Tellico at the end of last week and caught several nice trout. That might be something to put on the list of places to try.
Saturday December 15th is going to be the day to be here at the Shop. We have a FREE fly tying demo going on. Who is going to be tying? Two of the best fishermen in East Tennessee and the Southeast. Walter Babb and Jack Gregory will both be here to show you how to tie some of their favorite flies. Oh, they may even tell a fishing tale or two. This will be going on from 10am till 2pm. Just come by, pour some coffee and pull up a chair.
Walter and Brian Courtney are teaching a beginner fly tying class on Saturday December 8th. The class lasts all day. We provide everything you need for the day, including lunch. Call the shop at 865-448-9459 to reserve a spot. It may be sold out. I'm not sure. Call to find out. CLICK HERE to learn more about this class.
If you go fishing today, stay warm. An extra change of clothes would be a good thing to have in the car just in case.
Have a great day and thank you for being here with us.
Daniel Drake
November 28, 2018
Respond to: byron@littleriveroutfitters.com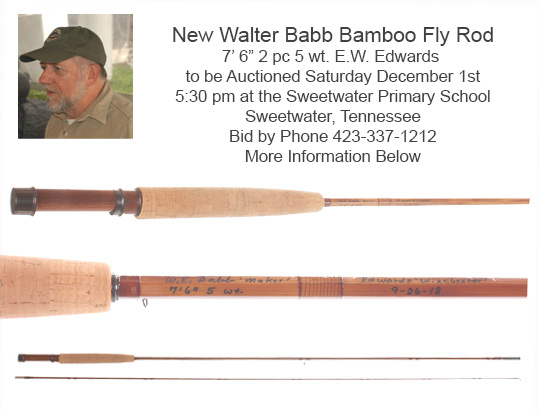 Walter made the rod this Fall as a donation for the non-profit Needy Family Auction held in Sweetwater, Tennessee. The auction will be held at 5:30 pm, at the Sweetwater Primary School on Highway 322. You may bid by phone by calling 423-337-1212.
"The rod made for this year's auction is a 7' 6" 2 piece 5-weight taper originated by E.W. Edwards. He was an employee of the H.L. Leonard Rod Company, and later formed a brief partnership with Ed Payne and F.E. Thomas, Leonard employees who later started their own rod making business.
Around 1915, Edwards discovered his heat treating process, that flamed the cane to a dark brown and added amazing power to the shaft. During the next four years he and is oldest son, William E. built approximately 1,000 bamboo fly rods.
In 1919, Winchester purchased Edward's company and convinced him to supervise rod making. High-end Winchesters built during this period were quality rods. The best Edwards Winchester was the 7 ½ ft. model, which became very popular in the Catskills and made that length the popular stream fixture it is today. Winchester low-end rods were not very good, however and after five years as foreman, Edward left to go out on his own.
This is a flamed single tip rod that casts at all distances. I tested it with a double taper line. It comes with a quality rod bag from CSE and a rod tube made by REC. It would be a good mountain rod for the Smokies and anywhere else.
Additionally, a box of dry flies and dry, dropper type nymphs are to be auctioned separately."
Walter Babb 2018