If you do not see today's Fishing Report, please refresh your browser to empty your cache.
Welcome to the Fishing Report from Townsend, Tennessee in the Great Smoky Mountains. At 5:45 am, the temperature outside is 21.0 degrees.
A warm front is moving into our area. It will be much warmer during the days and nights through Monday. There is a low chance for rain this afternoon, then a higher chance tonight and tomorrow, with a very high chance Saturday. We may see temperatures rise to the upper 60's on Sunday.
NATIONAL WEATHER SERVICE PREDICTED HIGHS AND LOWS TODAY

| | | |
| --- | --- | --- |
| LOCATION | HIGH | LOW |
| TOWNSEND | 49 | 45 |
| GATLINBURG | 49 | 44 |
| ELKMONT | 48 | 43 |
| CADES COVE | 47 | 44 |
| NEWFOUND GAP | 46 | 42 |
| MOUNT LECONTE | 42 | 40 |
| CHEROKEE | 49 | 41 |
| SMOKEMONT | 46 | 42 |
| BRYSON CITY | 50 | 42 |
| MAGGIE VALLEY | 48 | 42 |
| COSBY | 51 | 43 |
Little River is flowing at 232 cubic feet per second (cfs) or 2.08 feet on the flow gauge. Median flow for this date is 239 cfs. The water temperature is 38.1 degrees this morning.
The streams are cold, below 40 degrees throughout the Park. Oconaluftee River's temperature is 36.7 degrees and the USGS gauge site at Cataloochee Creek is reporting 34.3 degrees. The temperatures are still falling this morning at all locations.
I have almost always found fishing to be slow, when the water temperatures drop into the low 40's and especially slow with temps in the 30's. Post spawn brown trout may feed in this cold water. They are hungry and need food.
Water temperatures will begin climbing today, tonight and through the weekend. Fishing will certainly improve during the period. The rain will be warm. That will boost the temperatures quicker. The trout's metabolism will become more active. The longer we wait, the better the fishing will be. Watch for 50 degrees water in the low elevations. Fishing will be fair to good then. I have high hopes for this weekend.
I would start with nymphs or streamers. My favorite nymphs are Tellico, Prince, Hare's Ear and Pheasant Tail. Add plenty of weight to get them down. My favorite Smokies streamer is a Muddler Minnow. You might catch a big brown on one of those.
There is going to be a good chance blue wing olives will be on the surface over the next few days. Be prepared for that. As the water warms, trout may be feeding on the surface at times through the weekend. You may see hatches of other aquatic insects.
This is going to be a Spring-like weekend.
We are working at the shop on a huge project. On January 2nd, we will be switching to a cloud based "point of sale" (POS) computer system. Right now, we are adding each item we sell, and scanning in the bar codes. I'm working on Wapsi in the fly tying department. That one supplier alone has about 1,500 items on display in our store, in the fly tying department alone, with more downstairs. We have several other fly tying materials and tool suppliers, but none a large as Wapsi.
That will be the last step, in making our store "cloud dependent", good or bad. The cloud is a catch phrase for a remote server. The good is, we can access everything on the web. The bad is, if the internet goes down, so do we.
Our websites, online store, credit card processing, accounting, fishing license sales, e-mail addresses for marketing and now our point of sale system will all be on remote servers.
Credit card processing goes through a secure and encrypted connection, whether you buy online or at the shop. The connection is Payment Card Industry (PCI) compliant. We even have in store, audits, conducted by an outside company, to check our security. Credit card information is never stored on our other servers and not on our computers.
Beginning next year, I can do anything or see anything from home or anywhere. I can do most of that now, but until we make the switch, I can't see sales transactions in real time on our POS system. After that, I can.
So, what is next? How will technology change our lives in the short term future?
I think, in a few years, my outboard motor on a boat will be electric. It will be powered by light weight lithium batteries. There are already 40 hp electric outboards in use. They are very expensive, both the motors and the batteries.
I read this week, in 5 or 6 years, there will be 400 models of electric vehicles, cars and trucks, for sale. Auto makers are rushing for future market share.
The Rivian electric pickup truck and SUV were unveiled in California at a show this week. Visit their website by CLICKING HERE. I can just see me driving that SUV and pulling my all-electric boat to the lake. The Rivian SUV touts 0-60 mph in 3 seconds with a towing capacity of 7,700 pounds. I could take a big boat somewhere, quickly.
Rivian took what would have been an engine compartment under the hood, and turned it into a trunk, for storage. Each wheel is powered by a small electric motor.
Have a great day and thank you for being here with us.
Byron Begley
November 29, 2018
Respond to: byron@littleriveroutfitters.com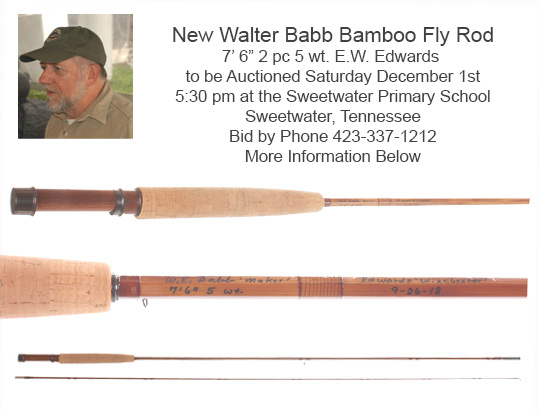 Walter made the rod this Fall as a donation for the non-profit Needy Family Auction held in Sweetwater, Tennessee. The auction will be held at 5:30 pm, at the Sweetwater Primary School on Highway 322. You may bid by phone by calling 423-337-1212.
"The rod made for this year's auction is a 7' 6" 2 piece 5-weight taper originated by E.W. Edwards. He was an employee of the H.L. Leonard Rod Company, and later formed a brief partnership with Ed Payne and F.E. Thomas, Leonard employees who later started their own rod making business.
Around 1915, Edwards discovered his heat treating process, that flamed the cane to a dark brown and added amazing power to the shaft. During the next four years he and is oldest son, William E. built approximately 1,000 bamboo fly rods.
In 1919, Winchester purchased Edward's company and convinced him to supervise rod making. High-end Winchesters built during this period were quality rods. The best Edwards Winchester was the 7 ½ ft. model, which became very popular in the Catskills and made that length the popular stream fixture it is today. Winchester low-end rods were not very good, however and after five years as foreman, Edward left to go out on his own.
This is a flamed single tip rod that casts at all distances. I tested it with a double taper line. It comes with a quality rod bag from CSE and a rod tube made by REC. It would be a good mountain rod for the Smokies and anywhere else.
Additionally, a box of dry flies and dry, dropper type nymphs are to be auctioned separately."
Walter Babb 2018