If you do not see today's Fishing Report, please refresh your browser to empty your cache.
Welcome to the Fishing Report from Townsend, Tennessee in the Great Smoky Mountains. At 5:42 am, the temperature outside is 53.4 degrees.
More rain is predicted today and tonight, a 60% chance. Thunderstorms are possible tonight. It will be breezy today, with strong gusts at times. We could get another ½ inch of rain today and tonight, with higher amounts possible in thunderstorms tonight. Or, we may not get much rain, and maybe none.
Tomorrow will be mostly sunny and very warm with a high temperature in the upper 60's predicted for Townsend.
During the past 24 hours, .84" of rain fell in Townsend, near our home. We have already received more rain than was predicted for yesterday and today combined. And, more rain is possible.
NATIONAL WEATHER SERVICE PREDICTED HIGHS AND LOWS TODAY

| | | |
| --- | --- | --- |
| LOCATION | HIGH | LOW |
| TOWNSEND | 62 | 56 |
| GATLINBURG | 61 | 56 |
| ELKMONT | 58 | 54 |
| CADES COVE | 57 | 54 |
| NEWFOUND GAP | 53 | 49 |
| MOUNT LECONTE | 50 | 46 |
| CHEROKEE | 56 | 52 |
| SMOKEMONT | 55 | 51 |
| BRYSON CITY | 57 | 52 |
| MAGGIE VALLEY | 54 | 52 |
| COSBY | 61 | 54 |
Little River is flowing at 833 cubic feet per second (cfs) or 3.16 feet on the flow gauge. Median flow for this date is 246 cfs. The water temperature is 50.7 degrees this morning.
Little Pigeon River is flowing high at 2,170 cfs or 3.80 feet at the Sevierville gauge. Median flow is 301 cfs.
Oconaluftee River is flowing at 1,420 cfs at the Birdtown gauge, compared to median flow of 395 cfs. The river was stained overnight but it is clearing now. The water temperature is 46.2 degrees.
Cataloochee Creek is flowing at 170 cfs, compared to median flow of 73 cfs. The water temperature there is 46.0 degrees this morning.
We got more rain than was predicted yesterday and last night. The streams are flowing high. Right now, they are all receding. But, more rain is possible today and tonight. If the rain somehow misses the Park, you may find some fishable streams today and tomorrow.
We consider a gauge reading of 2.5 feet to be on the high side of good at the Little River Townsend gauge. Right now, that number is 3.16 feet. The streams will be swift. Some may be stained at times.
It will be breezy today and tonight. We may see wind gusts up to 25 miles per hour in the foothills. The higher elevations in the Park are under a wind advisory today, with possible 30 to 40 mile per hour gusts.
If you go, be careful wading. You may do best, more safely, by standing near the banks and "high sticking" heavily weighted nymphs or streamers.
What happens tomorrow, depends on what happens today. No rain today should make for good fishing tomorrow.
The streams are warming. Water temperatures are good for fishing in the low elevations. They will become even warmer today and tomorrow.
These are not ideal fishing conditions. Given a choice, I would wait and go tomorrow. However, the streams could be flowing higher tomorrow. So, maybe today would be the best choice. Whatever you decide to do, be careful wading and get out of the forest if it is windy.
I plan to work all day, today and tomorrow.
The Townsend Christmas Parade will be held tomorrow. Our parade is something to see. People will be lined up along the main highway through town. I'm not sure when the parade starts but it is usually around 2 pm.

Once the parade begins, you will not be able to drive through town. If you get stuck, park somewhere and watch the Christmas Parade. It usually lasts about two hours. You will enjoy it.
The parade usually begins at our store and terminates at Nawger Knob.
Have a great day and thank you for being here with us.
Byron Begley
December 1, 2018
Respond to: byron@littleriveroutfitters.com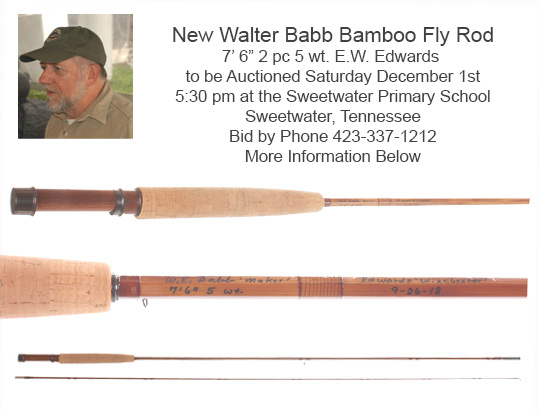 Walter made the rod this Fall as a donation for the non-profit Needy Family Auction held in Sweetwater, Tennessee. The auction will be held at 5:30 pm, at the Sweetwater Primary School on Highway 322. You may bid by phone by calling 423-337-1212.
"The rod made for this year's auction is a 7' 6" 2 piece 5-weight taper originated by E.W. Edwards. He was an employee of the H.L. Leonard Rod Company, and later formed a brief partnership with Ed Payne and F.E. Thomas, Leonard employees who later started their own rod making business.
Around 1915, Edwards discovered his heat treating process, that flamed the cane to a dark brown and added amazing power to the shaft. During the next four years he and is oldest son, William E. built approximately 1,000 bamboo fly rods.
In 1919, Winchester purchased Edward's company and convinced him to supervise rod making. High-end Winchesters built during this period were quality rods. The best Edwards Winchester was the 7 ½ ft. model, which became very popular in the Catskills and made that length the popular stream fixture it is today. Winchester low-end rods were not very good, however and after five years as foreman, Edward left to go out on his own.
This is a flamed single tip rod that casts at all distances. I tested it with a double taper line. It comes with a quality rod bag from CSE and a rod tube made by REC. It would be a good mountain rod for the Smokies and anywhere else.
Additionally, a box of dry flies and dry, dropper type nymphs are to be auctioned separately."
Walter Babb 2018