If you do not see today's Fishing Report, please refresh your browser to empty your cache.
Welcome to the Fishing Report from Townsend, Tennessee in the Great Smoky Mountains. At 5:41 am, the temperature outside is 21.4 degrees.
Today will be sunny and warmer than it was yesterday. Tonight will be warmer too. Rain is in the forecast for the weekend in the foothills, with snow likely in the high elevations.
NATIONAL WEATHER SERVICE PREDICTED HIGHS AND LOWS TODAY

| | | |
| --- | --- | --- |
| LOCATION | HIGH | LOW |
| TOWNSEND | 44 | 32 |
| GATLINBURG | 43 | 31 |
| ELKMONT | 42 | 29 |
| CADES COVE | 42 | 31 |
| NEWFOUND GAP | 41 | 25 |
| MOUNT LECONTE | 33 | 23 |
| CHEROKEE | 45 | 28 |
| SMOKEMONT | 41 | 28 |
| BRYSON CITY | 45 | 29 |
| MAGGIE VALLEY | 43 | 28 |
| COSBY | 44 | 31 |
Little River is flowing at 359 cubic feet per second (cfs) or 2.40 feet on the Townsend gauge. Median flow for this date is 227 cfs. The water temperature is 41.1 degrees and falling.
Little Pigeon River is flowing at 557 cfs or 2.25 feet at the Sevierville gauge. Median flow for this date is 319 cfs.
At the Birdtown gauge, Oconaluftee River is flowing at 788 cfs, 2.28 feet and that compares to median flow of 396 cfs. The water temperature is 38.1 degrees and falling.
Cataloochee Creek is flowing at 164 cfs, compared to median flow of 81 cfs. The water temperature is 36.1 degrees. The temperature is still falling.
What we have this morning are cold water temperatures in the Smoky Mountains. I have always found fishing to be slow when the water temps are in the low 40's or colder. I think that will be the case today, except for possibly catching a post spawn brown trout. For the most part, I think fishing will be slow. The water temperatures listed above have not bottomed out yet.
We may see some stream warming today, but I don't think they will warm much.
If you go, use heavily weighted nymphs. My choices for Winter fishing have always been Tellico, Prince, Hare's Ear or Pheasant Tail patterns. A Muddler Minnow might work as a streamer. Most trout will be sluggish. Their metabolism is in low gear. They don't need food.
Tourism has slowed to a crawl in Townsend. We will see a spike Christmas week, which is not far off. We are fairly busy the following week for the New Year holiday.
I went to the bank yesterday. When I walked in, Kim told me to walk to a window quickly. There, in a tree behind the bank, overlooking Little River, was a bald eagle.
Bald eagles love Townsend and Little River. They feed on the stocked trout. They are here at other times of the year, but you only get a quick glimpse of them. During the Winter, when the leaves are gone, we can spot them easily.
Below is a photo I took of a bald eagle, perched over Little River at the Townsend Shopping Center several years ago. We love our eagles.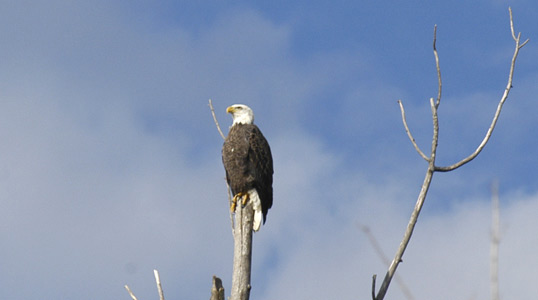 Paula and I were fishing in our boat on the Little Tennessee River one morning. A big smallmouth bass began feeding on the surface near our boat. I was in the process of quickly tying on a Puglisi Threadfin Shad, to catch the bass. Before I finished tying it on, I heard a splash and looked up. An eagle swooped down from nowhere, and snatched the bass. The bird flew off with the fish in his talons. This all happened about 50 feet away from us. That was an amazing sight to see.
Have a great day and thank you for being here with us.
Byron Begley
December 6, 2018