If you do not see today's Fishing Report, please refresh your browser to empty your cache.
Welcome to the Fishing Report from Townsend, Tennessee in the Great Smoky Mountains. At 5:47 am, the temperature outside is 22.3 degrees.
Today will be mostly sunny and chilly. Tomorrow should be cloudy and a little warmer. There is no rain or snow in the forecast this weekend. Our first real snowfall in the valley may occur Tuesday. So far this Winter, we have had only a trace. We have had some snow accumulations in the mountains this Winter.
NATIONAL WEATHER SERVICE PREDICTED HIGHS AND LOWS TODAY

| | | |
| --- | --- | --- |
| LOCATION | HIGH | LOW |
| TOWNSEND | 42 | 31 |
| GATLINBURG | 40 | 29 |
| ELKMONT | 38 | 28 |
| CADES COVE | 39 | 29 |
| NEWFOUND GAP | 33 | 24 |
| MOUNT LECONTE | 26 | 19 |
| CHEROKEE | 45 | 26 |
| SMOKEMONT | 39 | 25 |
| BRYSON CITY | 46 | 26 |
| MAGGIE VALLEY | 41 | 25 |
| COSBY | 41 | 28 |
| | | |
Little River is flowing at 777 cubic feet per second (cfs) or 3.09 feet on the gauge near Townsend. Median flow for this date is 359 cfs. The water temperature is 40.5 degrees this morning, and falling.
Little Pigeon River is flowing at 1,440 cfs, 3.24 feet, compared to median flow of 632 cfs for this date.
Oconaluftee River is flowing at 1,340 cfs, 2.9 feet, compared to median flow of 574 cfs. The water temperature is 38.1 degrees and falling.
Tellico River is flowing at 780 cfs, 2.72 feet, compared to median flow of 337 cfs.
Cataloochee Creek's flow is 314 cfs, 3.28 feet on the gauge, compared to median flow of 118 cfs. The water temperature is 36.9 degrees and falling.
Stream flows are still high. If you go, be careful wading. Water temperatures are cold, especially in the high elevations. I guess it is possible the streams could warm some today, after sunrise. I think fishing will be slow, but you might catch a trout or two.
I would use heavily weighted nymphs or streamers. High stick the nymphs deep, along the stream bottom. My nymph choices would be the same as they usually are, Tellico, Prince, Hare's Ear or Pheasant Tail. Many other nymph patterns may work just as well. The trout will be sluggish so the key to success is getting those nymphs or streamers right in the trout's face, without spooking the fish.
I would fish the lower elevations where the water is warmer.
Today will be a good one to visit the shop. Tradd Little and Will Davis will be conducting fly tying demonstrations. As usual, this event is free. All you have to do is show up. Tradd and Will are young, but they are exceptional fly tyers and anglers. They take their fly fishing and fly tying seriously. I can't wait to see them and their parents.
I won't be staying long because our nephew just became an Eagle Scout, and his celebration will be held this afternoon. I am so proud of him. That is a big deal.
Tennessee Wildlife Resources Agency estimates the Tennessee black bear population is 7,000 animals. I wrote in this report yesterday, about a bear that emerged from the den and tore down two of our bird feeders, three nights ago. It was warm, and sometimes the males leave their dens when the temperatures rise.
I finished the report and started working on other things at this home office. My work desk is next to a large window, with a great view of the forest behind our house. Over the years I have seen a lot of interesting wildlife.
I can see our four bird feeders from here too. We always have plenty of squirrels hopping around, waiting for a bird to drop a seed on the ground. Earlier this year, we saw as many as 15 squirrels at once.
Lately we have noticed the number of squirrels has declined.
At about 8 am yesterday, while working on this computer, a saw movement outside the window. I looked out, and saw a bobcat, holding a squirrel on the ground, and biting its head. This happened about 6 feet from the house. I was sitting 10 feet from the bobcat and the squirrel. This was one of the most amazing things I have seen in nature.
I grabbed my camera which is always ready, turned it on, and noticed it didn't have a compact flash card inside. So, I stood up to walk outside my office to get Paula. When I did that, the cat looked up at me, while still holding the squirrel to the ground.
She and I went back to the window and saw the bobcat walking in the forest, with the dead squirrel in it's mouth. Wow!
We have seen a bobcat chase a squirrel up a tree, and we've seen them waiting for the squirrels to come out of the trees early in the morning. But, we never saw a bobcat actually catch a squirrel. Unfortunately, I missed seeing the stalk and the actual capture.
This bobcat was small, the smallest I've seen. It is young. The cat was smaller than the one you see below. I took these photos from the window a few years ago.
This morning, my camera is sitting on the fly tying desk to my left. I going to be waiting for the cat to come back. Now we know why the squirrels have been disappearing.
I love living here.
Have a great day and thank you for being here with us.
Byron Begley
January 26, 2018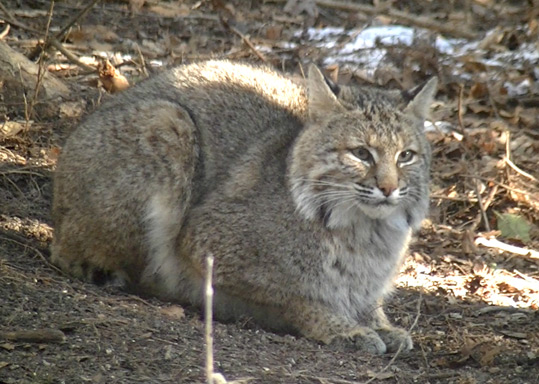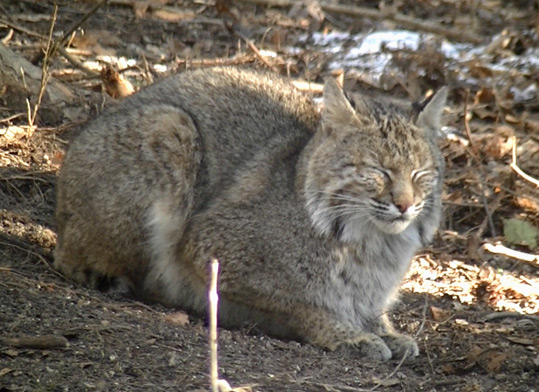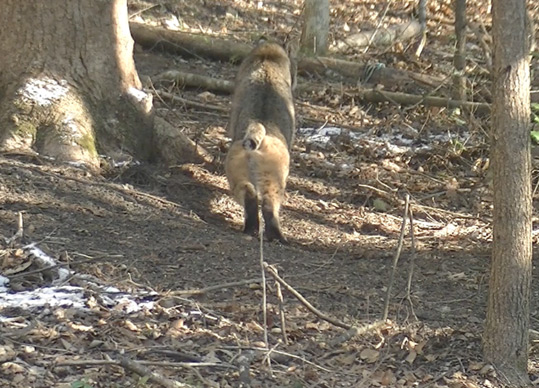 Fly Tying Classes January, February and March 2019
Taught by Walter Babb and Brian Courtney
Beginner to Advanced
CLICK HERE TO LEARN MORE