If you do not see today's Fishing Report, please refresh your browser to empty your cache.
Welcome to the Fishing Report from Townsend, Tennessee in the Great Smoky Mountains. The sun is shining brightly this morning. Later today and tomorrow it is going to be a toss up whether you will want to be wearing waders or not.
The weather forecast for the next few days is warm and sunny. The highs are going to be in the mid to upper 80's. Overnight lows will be in the 60's. Water temperatures will warm which should make the dry fly fishing even better.
Water levels in the Smokies are very good. This morning the Little River is running at 2.27 feet or 303 c.f.s. This is just a little higher than the daily normal of 250 c.f.s.
Water temperatures are good. The gauge is reading 57F. Temps will warm throughout the day.
We have been getting good reports from the Smokies. Middle Prong (Tremont) has been fishing well. Also, Lynn Camp Prong is good. Unsubstantiated claims from Will Davis are that he caught a 9" brookie up there. I'm inclined to believe it. Will's new obsession is Euro Nymphing which is super efficient for catching fish.
Lighter colored dry fly patterns are producing well. Try a Smoky Mountain Candy, Light Cahill, or Yellow Parachute Adams. Sizes are going to range from #12-#16. Yellow Sallies ( Little Yellow Stoneflies) are beginning to hatch. You are more likely to find them late in the day. Good patterns for these are Yellow Stimulators, Neversink Caddis, Rob's Hellbender Dry and the Doculator.
The Clinch River and the Holston River look to have favorable flow conditions today. It is nice to be able to fish the tailwaters once again. Always check with the TVA before going as water flows can change without notice.
This weekend was our first two day Beginner Fly Fishing Class of the season. The weather was perfect and the guys had a great time. Most everyone hooked or caught fish. A few learned important skills like how to extricate flies from the clutches of streamside trees. Our classes have been filling quickly this year. If classes are full, Private Instruction is a great option. It is like having both days of the school in one day. You are here at the Shop for the first half the day learning the basic skills, then in the afternoon you head to the river to put your new knowledge to use.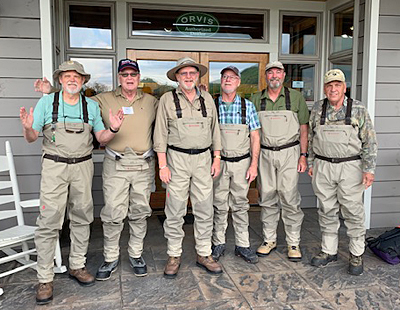 If you are heading to the mountains today have a fun time. It is too nice of weather to be stuck inside doing paperwork. The sun is setting later now which means that you can sneak away from work early and still have several hours of good fishing before dark.
Have a great day and thank you for being here with us.
Daniel Drake
April 29, 2019