If you do not see today's Fishing Report, please refresh your browser to empty your cache.
Welcome to the Fishing Report from Townsend, Tennessee in the Great Smoky Mountains. Days like this can make me want to run away to the mountains and forget about paperwork. To wander the cool streams and hear the rushing waters sounds so good today.
The weather today and the next few days is going to make it hard to concentrate on work. Highs are going to be in the mid 80's and lows are only in the 60's. There is some rain in the forecast for the weekend. That is a ways off so I say we enjoy Spring each day until then.
Water levels on the Little River are very good for fishing. This morning the gauge is giving a reading of 2.19 feet or 271 c.f.s. The daily normal is 236 c.f.s. Water temperature is 60F.
Fishing has been good across the Smokies. Where to go really depends on what you want to do. If you don't have much time or don't feel like taking a hike then stay along the road. Little River from the Y to Elkmont is good. Middle Prong all along the Tremont Road is a great destination. If the backcountry is calling your name then lace up your boots and head up the trail above Elkmont or go to Lynn Camp Prong. There is so many choices this time of year the hardest thing is deciding.
Nymphs are going to be the best choice early in the day. My favorite is a Prince Nymph. Prince Nymphs probably don't work better than any other nymph but it is the fly I have the most faith in. Others swear by Pheasant Tails or Tellicos. There is such a variety of insects in the Smokies that we can fish a great variety of fly patterns. Some river systems such as the tailwaters have a much more limited variety of food. In those situations matching the hatch is critical.
Fishing a dry / dropper rig is a great way to fish this time of year. The dry acts as the indicator but still has a hook so when the trout rises you still have the opportunity to catch it. When you fish with a dry as your top fly the nymph needs to be small or light enough that it doesn't drown the dry fly.
The hatches in the Smokies are lighter in color now. Light Cahills, Light Hendricksons, Yellow Parachute Adams, Smoky Mountain Candy, tan or yellow Elk Hair Caddis, Neversink Caddis, Yellow Stimulators and Rob's Hellbender Dry are good flies to start with. Sizes are generally #14 - #16.
A 7.5.' 5X leader is a good choice for the mountain streams. You can even go a little heavier with a 4X. If you are fishing and notice that your leader is twisting at the tip that means you are using too light a leader for the size fly you have tied on. A big, wind resistant fly will spin as you are casting. If your tippet is too light the leader will twist up.
There is a basket with a Walter Babb bamboo fly rod, Walter Babb flies and a Rob Fightmaster guide trip going up for auction outside the Gift Shop at UT Medical Center. Bidding will start on Monday May 6th and will run through Friday May 10th. The rod is 7'9" Paravergne Taper 2 piece for a 5 or 6wt and has an extra tip.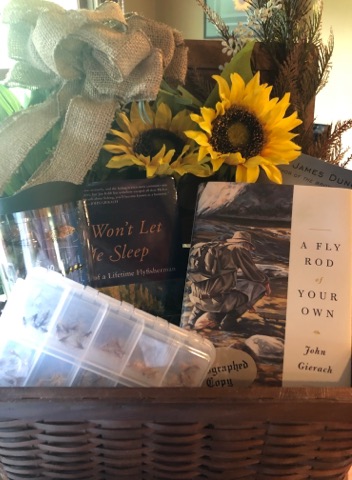 Walter Babb makes an incredible bamboo rod. I have 7' 4wt that he made years ago. His rods have gotten even better since then.

Have a great day and thank you for being here with us.

Daniel Drake
April 30, 2019