If you do not see today's Fishing Report, please refresh your browser to empty your cache.
Welcome to the Fishing Report from Townsend, Tennessee in the Great Smoky Mountains. The sun is shining this morning in here at the Shop after several days of rainy weather.
The extended forescast looks very nice. We are going to have cooler weather with highs in the 60's for the next couple of days and then warming again. No rain is forecast till next week. Being that this is East Tennessee the rain forecast is subject to change.
Water levels on the Little River is very high. This morning the gauge is reading 4.14 feet or 1,610 c.f.s. This is much higher than the daily normal of 207 c.f.s. The streams are flowing off color to muddy.
Water temperatures dropped overnight. At 9:30 the temperature on the Little River gauge is 58 F. This is still not a bad temperature and having the streams cool off is probably a good thing. We will see them drop further over the next few days due to colder overnight air temperatures.
I was looking around and I can't find anywhere in the area that I could even suggest to try fishing. The Little River watershed is too high to safely fish. The Oconoluftee gauge is showing very high water. Cataloochee Creek is much too high. The Little Pigeon system is rolling also.
The TVA website is showing all of the area tailwaters to be either generating or sluicing all day.
I guess this is a good day to get all caught up with work stuff so we can sneak away later in the week when water levels have returned to normal.
I'm not even going to suggest flies today because there isn't much point in going unless you want to drive around and see waterfalls where they aren't supposed to be.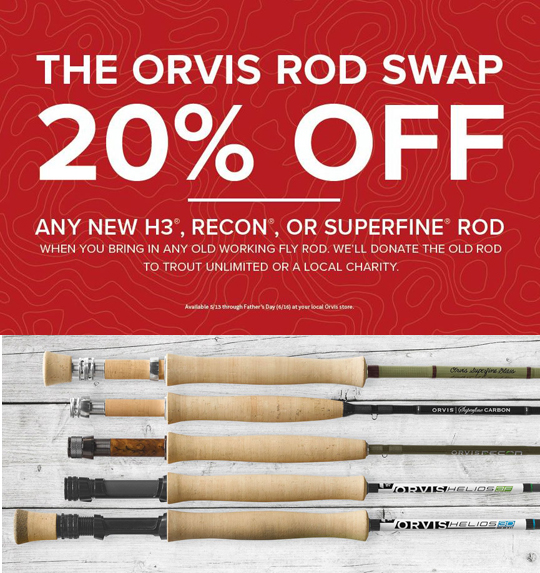 Orvis is doing their Rod Swap promotion again this year. The idea is very simple. Just bring us a functional fly rod and you receive 20% off the regular price of an Orvis Helios3, Recon or Superfine series rod. The rod you bring needs to be in usable condition as it will be donated to a non-profit fishing organization.
The online store won't give you credit for this so if you want to do this via the mail please give us a call and we'll get it all set for you. The promotion begins today and runs all the way till Father's Day. If you want a great rod at a great price this is the perfect opportunity.
Have a great day and thank you for being here with us.
Daniel Drake
May 13, 2019