If you do not see today's Fishing Report, please refresh your browser to empty your cache.
Welcome to the Fishing Report from Townsend, Tennessee in the Great Smoky Mountains. You may want a jacket if you are out in the mountains this morning. It is a little chilly. The sun is shining though so that helps.
The weather forecast for the next week looks great. It will be seasonably warm and very little rain. Hopefully you will be able to get out an enjoy it.
Water conditions in the Smokies are improving but flows are still high. This morning the gauge on Little River is giving a reading of 2.91 feet or 644 c.f.s. The daily normal is 219 c.f.s. Water clarity should be good.
Water temperatures have been dropping over the last several days. This morning the Little River is at 53.8F. Falling water temperatures generally causes slower fishing. The trout are likely to be hugging the bottom.
Nymphs are going to be the best choice this morning. I would fish them as deep as possible. Tungsten headed flies or split shot will help get you down to where the trout are. Prince Nymphs, Double Tungsten Stonesflies, Pat's Rubberlegs etc can be good. We are also starting to see the green worms. Green Weenies make an excellent dropper fly.
As water starts to warm try the dry patterns. Lighter colors are the way to go. Light Cahill, Yellow Sally, Yellow Parachute Adams, Rob's Hellbenders, or Yellow Stimulators. Don't forget about terrestrial patterns either. Ants and beetles especially mid-day.
Be careful if you venture out. Stay out of the water and try some of the smaller streams. Have a great day and thank you for being here with us.
Daniel Drake
May 15, 2019
Respond to: info@littleriveroutfitters.com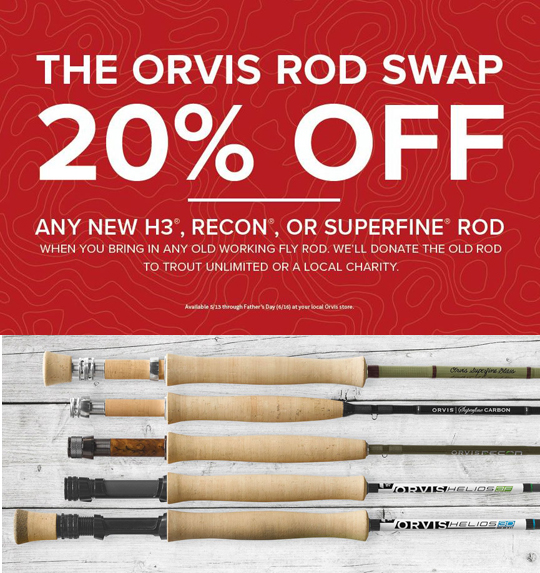 Orvis is doing their Rod Swap promotion again this year. The idea is very simple. Just bring us a functional fly rod and you receive 20% off the regular price of an Orvis Helios3, Recon or Superfine series rod. The rod you bring needs to be in usable condition as it will be donated to a non-profit fishing organization.
The online store won't give you credit for this so if you want to do this via the mail please give us a call and we'll get it all set for you. The promotion begins today and runs all the way till Father's Day. If you want a great rod at a great price this is the perfect opportunity.