If you do not see today's Fishing Report, please refresh your browser to empty your cache.
Welcome to the Fishing Report from Townsend, Tennessee in the Great Smoky Mountains. It is a cloudy morning here at the edge of the mountains. No rain in the forecast today. Just better fishing.
Water levels are still on the high side but they are improving every minute. This morning the stream flow gauge on Little River is reading 2.67 feet or 496 c.f.s. The daily normal is 213 c.f.s. If you aren't used to spring flows it is going to seem really high but if you are careful and a little creative you can make it work.
Water temperatures have stabilized but they are cooler than we have had. John Chambers was out yesterday and realized that it is a little cool for wet wading. We will see a rise in water temps over the next several days. Warming water should get the trout feeding well. This morning the Little River is at 55.6F.
If you are fishing today I would go to one of the smaller streams. The upper parts of the Middle Prong, Lynn Camp Prong, West Prong of the Little River or high up on the West Prong of the Little Pigeon could be good places to try. These streams will have lower water levels than are showing on the gauge.
David Knapp of Trout Zone Anglers was in this morning to meet some clients. He said fishing was good yesterday. They had gone very high in elevation looking for less water. He said about 2:00pm they got into a good hatch of Sulphurs. #16 was the main size they were catching the trout on but also did well on a #14. He said he has been seeing Yellow Sallies later in the day.
Josh Pfeiffer of Frontier Anglers TN was also in the Shop this morning. I asked him how the smallmouth was doing with the drop in water temperature. He said that it was just a minor setback. The main problem they have been having is water clarity. Josh said that the other day when they got to the river it was like chocolate milk. He couldn't even see the oar blades in the water. Fishing was tough that day. They threw streamers, rattling streamers...basically everything Josh could think of. His folks did catch some smallmouth but it was a challenge. The smallmouth will be on fire as soon as the rivers are clear enough for them to see what they are eating.
Lighter colored patterns are the dry hatch. Try Yellow Parachute Adams, Sulphurs, Smoky Mountain Candy, Yellow or Tan Elk Hair Caddis. Yellow sally patterns are very good especially later in the day. Neversink Caddis, Rob's Hellbenders and Yellow Stimulators are great.
Green Weenies will make good dropper flies. They are light and the real bugs are high in the water column. Just tie one on below your Stimulator and go for it.
Fishing is going to improve each day. Water levels are dropping and temperatures will be on the rise. Expect much better fishing this weekend!
Have a great day and thank you for being here with us.
Daniel Drake
May 16, 2019
Respond to: info@littleriveroutfitters.com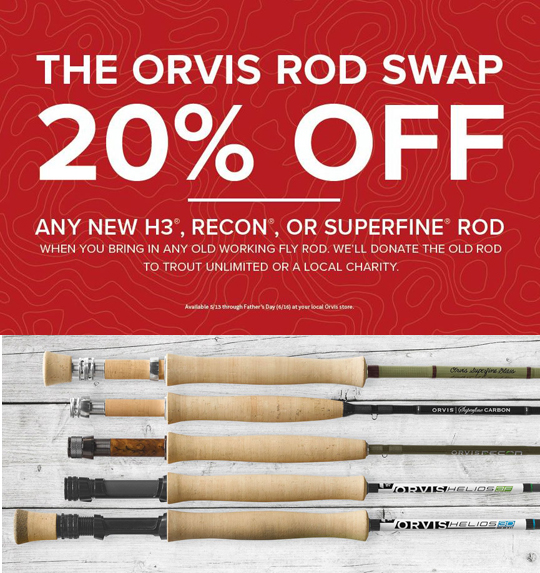 Orvis is doing their Rod Swap promotion again this year. The idea is very simple. Just bring us a functional fly rod and you receive 20% off the regular price of an Orvis Helios3, Recon or Superfine series rod. The rod you bring needs to be in usable condition as it will be donated to a non-profit fishing organization.
The online store won't give you credit for this so if you want to do this via the mail please give us a call and we'll get it all set for you. The promotion begins today and runs all the way till Father's Day. If you want a great rod at a great price this is the perfect opportunity.