If you do not see today's Fishing Report, please refresh your browser to empty your cache.
Welcome to the Fishing Report from Townsend, Tennessee in the Great Smoky Mountains. Some very light sprinkles were falling this morning here at the Shop. So far it is only enough to make the parking lot damp. According to the weather forecast, that should give way to sun later today.
Tomorrow is going to be a beautiful day. Sunny and 85F. I can't remember how long it has been since we have had a pretty weekend.
Water levels on Little River are returning to better fishing levels. This morning the stream flow gauge is giving a reading of 2.50 feet or 406 c.f.s. The daily normal is 206 c.f.s. All the rivers should be flowing clear.
Water temperatures are on the rise. This morning the Little River is at 59F. The streamflow gauge is just inside the Park boundary which is fairly low elevation. Water temperatures in the higher elevations will be cooler.
You should find good fishing today in the Smokies. Water levels have greatly improved. They are still a little high so you will need to be careful and choose your spots. Smaller streams will have lower water conditions. Anglers have been having success on most streams. Where to go will depend on what species you want to fish for and how much effort you want to expend to get to them.
Nymphs will be best earlier in the day. Prince Nymphs, Tellico Nymphs, Squirmy Worms, Pheasant Tails, and Green Weenies are all good. Sizes are going to be from #12 - #16 depeding on the pattern you choose. As the day warms dry fly patterns will start working very well. The hatches have been light in color. Sulphurs are hatching. These tend to be smaller mayflies so a #16 is usually a good choice. The Yellow Sallies have begun hatching. Late afternoon to evening is the best time, especially the last couple hours before dark. Neversink Caddis, Rob's Hellbenders and Yellow stimulators are some of my favorite Yellow Sally patterns. #14 - #16 are best.
I was thinking th3e other day that it doesn't seem like I've been writing the report for almost three weeks now. After the first couple of days I think I've gotten into the groove of it. We are amazed and thankful for the large number of you that read this report almost every day. I know many of you live a long way away. Milt live all the way off in Hawaii! Knowing that so many enjoy the report is why we make sure it always gets posted. Thanks!!!!
If you can get out on the river today or this weekend you should. Fishing should be very good over the next several days. The lawn can wait.
Have a great day and thank you for being here with us.
Daniel Drake
May 17, 2019
Respond to: info@littleriveroutfitters.com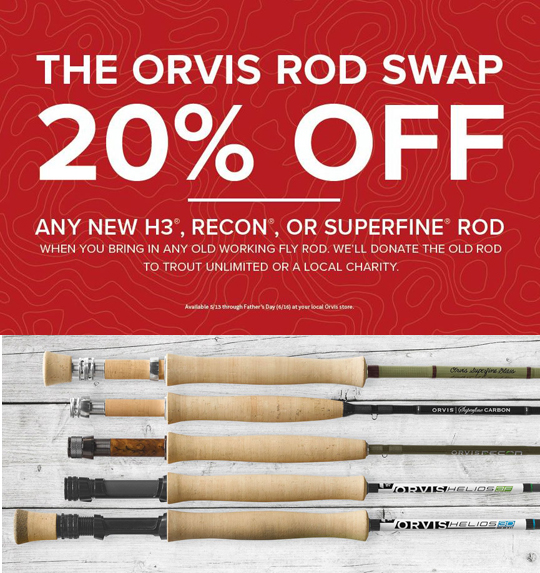 Orvis is doing their Rod Swap promotion again this year. The idea is very simple. Just bring us a functional fly rod and you receive 20% off the regular price of an Orvis Helios3, Recon or Superfine series rod. The rod you bring needs to be in usable condition as it will be donated to a non-profit fishing organization.
The online store won't give you credit for this so if you want to do this via the mail please give us a call and we'll get it all set for you. The promotion begins today and runs all the way till Father's Day. If you want a great rod at a great price this is the perfect opportunity.