If you do not see today's Fishing Report, please refresh your browser to empty your cache.
Welcome to the Fishing Report from Townsend, Tennessee in the Great Smoky Mountains. Busy morning today. It seems like everyone is headed to the mountains to fish.
The sun is shining and it is going to be warm today. By this afternoon it will be wet wading weather again. There is only a slight chance of rain today.
Water levels are very good now. This morning the Little River gauge reading is 2.35 feet or 336 c.f.s. The daily normal is 212 c.f.s. Water clarity is good.
Water temperature is up to 61F. The moon is almost full and was very bright last night. This can make fishing early in the day slower as they fed overnight.
Fishing will be good today and improving as the day warms up. There is already a bunch of people who were headed up Tremont. I would probably head towards the Little River above Metcalf Bottoms.
Dry flies have been working well. Lighter colors are the hatch. Smoky Mountain Candy, Sulphurs, Neversink Caddis, Yellow Stimulators, Rob's Hellbenders and Doculators are all good choices. Sizes are going to mostly be in the #14 - #16 range.
We are seeing more and more Green Weenies out on the river. They make a great dropper.
This is already late so I'm going to keep it short. Byron will be back at the helm tomorrow morning. Thanks for reading these past weeks!
Have a great day and thank you for being here with us.
Daniel Drake
May 18, 2019
Respond to: info@littleriveroutfitters.com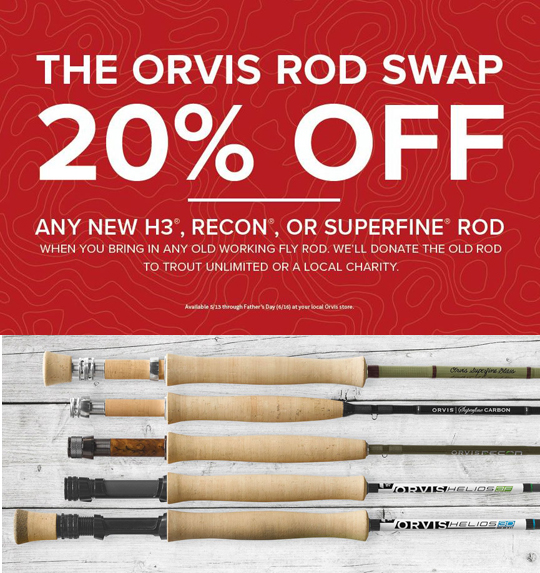 Orvis is doing their Rod Swap promotion again this year. The idea is very simple. Just bring us a functional fly rod and you receive 20% off the regular price of an Orvis Helios3, Recon or Superfine series rod. The rod you bring needs to be in usable condition as it will be donated to a non-profit fishing organization.
The online store won't give you credit for this so if you want to do this via the mail please give us a call and we'll get it all set for you. The promotion begins today and runs all the way till Father's Day. If you want a great rod at a great price this is the perfect opportunity.