If you do not see today's Fishing Report, please refresh your browser to empty your cache.
Welcome to the Fishing Report from Townsend, Tennessee in the Great Smoky Mountains. At 7:06 am, the temperature outside is 64 degrees.
Today will be mostly sunny and warm, with a high temperature in the mid 80's. It will be breezy at times. There is a chance for strong thunderstorms late today or tonight, with wind a large hail being the worst threat.
We had one of those isolated storms hit at our house late yesterday. The personal weather station near our house recorded .81 inches of rain, in a little over an hour. We got some hail out of that storm too.
Apparently, the storm missed the Little River watershed in the Smokies. Flow this morning is 299 cubic feet per second (cfs) or 2.26 feet on the flow gauge. Median flow for this date is 210 cfs. The water temperature is 62.1 degrees this morning.
Other stream flow sites in the Park recorded almost no change upward yesterday.
Fishing has been good. Nymphs and dry flies are working well. The lighter colored dries are producing. Anything yellow is a good choice for your dry, Light Cahills or any Yellow Sally Stonefly pattern will work. Try Rob's Hellbender or a Yellow Elk Hair Caddis. Mr. Rapidan or Smoky Mountain Candy are other good mayfly choices during the Summer months.
I would use a Green Weenie for my dropper or fish one alone and weighted.
Flows are good and water temperatures are excellent in the Smokies. This is prime time. Bugs are hatching well in the evenings.
I noticed this morning, rainfall is twelve inches above normal for the year so far at the Knoxville Airport. This has impacted fishing in a negative way at at times. Anglers missed a lot of fishing days due to heavy rain in our region this year.
It looks like TVA and the Corps will be generating at many of the dams today. Check the TVA website to see if there are any fly fishing opportunities on your favorite river. I did and saw a few opportunities.
Paula and I left for Florida in late April and returned late yesterday. We have not been on a three week vacation since we got into this business. We stayed in our usual rented home on the bay. We kept our kayaks in the water at the dock the whole trip and used them almost every day. Across the road on the peninsula, is the Gulf of Mexico. There we surf fished some days.
The house we rent is perfect. The swimming pool is 75 feet from the bay. The bay is east from the back of the house, so we see beautiful sunrises every morning. The dock is 175 yards long. That's correct, l.75 football fields long, I stepped it off. We have our own small beach area where we park the kayaks.
Frank and Freida joined us for ten days. We had a great time with them. Frank and I have been buddies since 1957.
Fishing was excellent on a few days. It was good on many more. And there were slow days. We caught speckled trout, redfish, pompano and a few other species. Frank and Paula each caught a huge black drum on the surf one morning. We weighed both on Frank's 15 pound Boga Grip and they topped out that number. We guess they weighed 20 pounds or more.
Speckled trout fishing was a good as I have seen in my life. Many were large too, with a couple I caught exceeding 20 inches.
It was a great vacation, my all time favorite. As usual, I missed working, something I love to do. But, I could have easily stayed another week. We have the house rented for three weeks next year and we are going to rent it for 2021 as soon as they will let us.
I can't get over how green and lush it is here. Maybe it is because of all the rain or because I've been looking at sand for three weeks. Anyway, it is always good to be home in the Smoky Mountains. I love living here.
Have a great day and thank you for being here with us.
Byron Begley
May 19, 2019
Respond to: info@littleriveroutfitters.com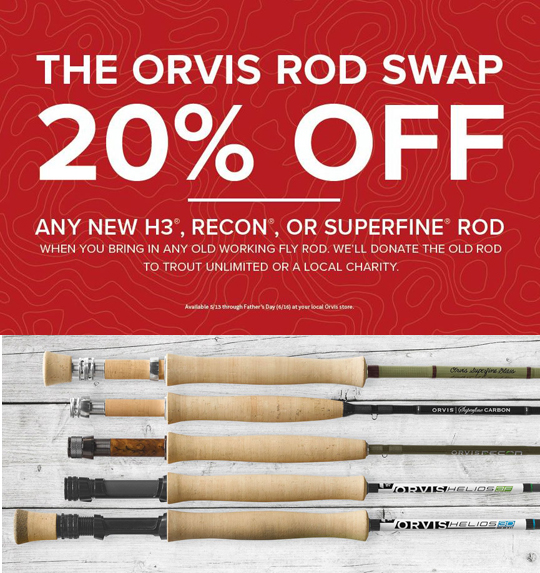 Orvis is doing their Rod Swap promotion again this year. The idea is very simple. Just bring us a functional fly rod and you receive 20% off the regular price of an Orvis Helios3, Recon or Superfine series rod. The rod you bring needs to be in usable condition as it will be donated to a non-profit fishing organization.
The online store won't give you credit for this so if you want to do this via the mail please give us a call and we'll get it all set for you. The promotion begins today and runs all the way till Father's Day. If you want a great rod at a great price this is the perfect opportunity.