If you do not see today's Fishing Report, please refresh your browser to empty your cache.
Welcome to the Fishing Report from Townsend, Tennessee in the Great Smoky Mountains. At 7:05 am, the temperature outside is 66 degrees.
Clouds are hovering over the Smoky Mountains National Park this morning. What I am seeing is a beautiful sunrise from my office window. The mountains and foothills are lush and green. This is a nice morning in Townsend.
We have a slight chance for showers this morning and a low chance for scattered thunderstorms later. Otherwise it will be comfortable, around 80 degrees for the high today. Tomorrow will be sunny and a little warmer. By the end of the week it will be very warm.
Little River is flowing at 264 cubic feet per second (cfs) or 2.17 feet on the flow gauge. Median flow for this date is 209 cfs. The water temperature is 63.5 degrees this morning.
All streams in the Park that have USGS flow gauges are flowing slightly above median flow.
Fishing is good. Fishing is better than good. The conditions are perfect, plenty of water and ideal water temperatures.
You will do well with nymphs or dry flies. My dry fly choices would be, Yellow Elk Hair Caddis, Yellow Neversink Caddis, Rob's Hellbender, Smoky Mountain Candy, Yellow Stimulator, or any Yellow Sally Stonefly pattern.
For nymphs, I would use a Green Weenie or a Pink Weenie if fishing for brook trout.
Ants and beetles may work well too. I think the trout will eat anything that looks like real food.
Stay hidden from the trout and get a good drift.
There were many anglers fishing in the mountains this weekend. We were also very busy at the shop. I like that.
I checked the TVA website, looking for tailwater fishing opportunities. There are some, especially if you are floating.
I have not been but I bet the lakes are fishing well. I am anxious to start fishing them again. I worked most of the Winter, 7 days a week, anticipating our Spring Florida trip. Paula and I just returned Saturday, from a three-week vacation in the Sunshine State. We rented our usual house on the bay, took the kayaks, fished the bay and surf fished. Fishing was good, most days.
Someone asked me yesterday, "Did you get to fish any on your vacation?" Fishing is the main reason we go. I think maybe we did not fish two days while we were there. Every other day, we did.
That was the first 3-week vacation we have been on in at least 25 years.
You probably know, I love work. Now that we have our new Point of Sale system, I can watch every transaction online "live", and I did that while we were there. I can see who the customer is, what they bought, and who waited on them, from my laptop. I also watched to see what I needed to order when I returned. That is what I'm going to be doing this week, ordering stuff.
We have a new shop associate, someone Daniel hired recently. His name is Alex Kite. Yesterday was his first day. He is attending college so he will only work here for the Summer. Alex is a real nice guy. He is also very smart and a quick learner. I recognized him when we met yesterday. I think he has been a customer here since he was 13 years old. He is a graduate from the Orvis Guide School at Hubbard's Yellowstone Lodge in Montana.
I have stayed at Hubbard's. It is nice.
Well, this looks to be a very good fishing day so go if you can.
Have a great day and thank you for being here with us.
Byron Begley
May 20, 2019
Respond to: byron@littleriveroutfitters.com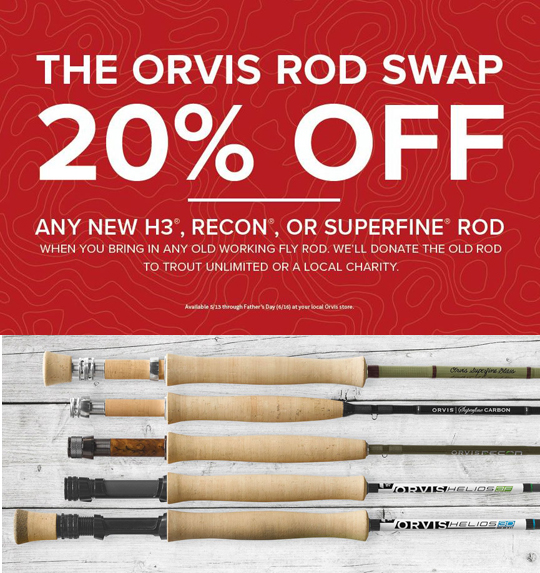 Orvis is doing their Rod Swap promotion again this year. The idea is very simple. Just bring us a functional fly rod and you receive 20% off the regular price of an Orvis Helios3, Recon or Superfine series rod. The rod you bring needs to be in usable condition as it will be donated to a non-profit fishing organization.
The online store won't give you credit for this so if you want to do this via the mail please give us a call and we'll get it all set for you. The promotion begins today and runs all the way till Father's Day. If you want a great rod at a great price this is the perfect opportunity.