If you do not see today's Fishing Report, please refresh your browser to empty your cache.
Welcome to the Fishing Report from Townsend, Tennessee in the Great Smoky Mountains. At 7:03 am, the temperature outside is 54 degrees.
It will warm up today, to near the mid-80's. It will be sunny today. There is only a slight chance for rain in the forecast through Monday, Memorial Day. As the week progresses, it is going to be hotter, maybe setting records. High temperatures Friday through Monday may reach or exceed 90 degrees.
As the streams recede, and the water warms later this week, we should be mindful that fishing in the low elevations may not be a good idea. You may want to plan on fishing the mid to high elevation streams this weekend. Water temperatures will likely reach or exceed 70 degrees in the low elevation streams.
Little River is flowing at 232 cubic feet per second (cfs) or 2.08 feet on the flow gauge. Median flow for this date is 193 cfs. The water temperature is 62.4 degrees this morning at the Townsend USGS gauge site. Yesterday, that number climbed to 67 degrees.
Fishing is very good in the Smokies. Trout are taking nymphs and dry flies well. Yellow Sally Stoneflies and other aquatic insects are active, with some very good hatches to be enjoyed late in the day, until dark.
Our dry fly recommendations include, Smoky Mountain Candy, Yellow Stimulator, Yellow Neversink Caddis, Rob's Hellbender, Yellow Elk Hair Caddis, or any Yellow Sally Stonefly pattern. Nymph recommendations include Green Weenie, Pink Weenie, Tellico, Pheasant Tail and many other reasonable patterns.
Fishing has been good on all three prongs of Little River. You might start early in the low elevations, them move up higher as the water warms. I would hike up the East Prong, above Elkmont or fish Lynn Camp Prong, the main tributary to the Middle Prong of Little River, later this week or now, if you like.
The stream levels are creeping down to normal flows for this time of the year. That will continue through the weekend.
Lake fishing with fly rods is pretty good right now. Choose an overcast day or go early or late when the sun is off the water. Frankly, I would not go this weekend. The lakes are going to be packed with pleasure boaters.
Lowland River fishing is good thanks to the slightly higher than normal flows. Poppers, nymphs and streamers will work. I would avoid fishing in Townsend this weekend. There will be many tubers on the water. You can also expect tubers and swimmers on the larger rivers in the Park this weekend. Hike into the backcountry to fish.
Have a great day and thank you for being here with us.
Byron Begley
May 21, 2019
Respond to: byron@littleriveroutfitters.com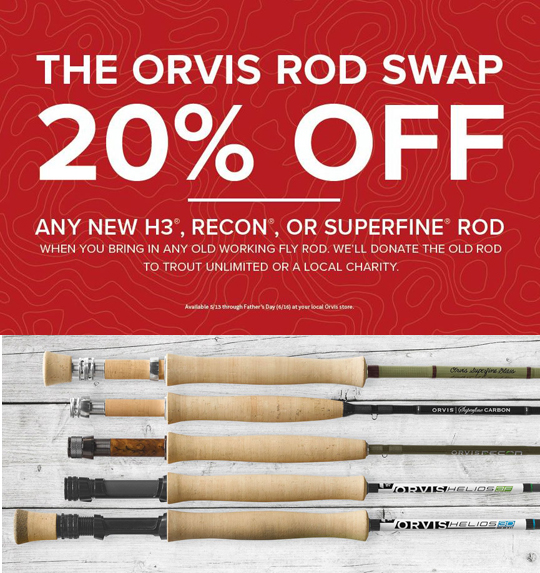 Orvis is doing their Rod Swap promotion again this year. The idea is very simple. Just bring us a functional fly rod and you receive 20% off the regular price of an Orvis Helios3, Recon or Superfine series rod. The rod you bring needs to be in usable condition as it will be donated to a non-profit fishing organization.
The online store won't give you credit for this so if you want to do this via the mail please give us a call and we'll get it all set for you. The promotion begins today and runs all the way till Father's Day. If you want a great rod at a great price this is the perfect opportunity.