If you do not see today's Fishing Report, please refresh your browser to empty your cache.
Welcome to the Fishing Report from Townsend, Tennessee in the Great Smoky Mountains. At 6:58 am, the temperature outside is 60 degrees.
The cool days and nights will be gone for a while. We are going to see highs in the upper 80's to 90 degrees, with lows only dipping to the mid to upper 60's through Memorial Day. There is a chance for rain each day but not much of one. Thankfully the humidity won't be too high during this period. By the way, all of next week is going to be hot too.
Little River is flowing at 212 cubic feet per second (cfs) or 2.02 feet on the flow gauge. Median flow for this date is 193 cfs. The water temperature is 63.7 degrees.
Fishing is very good in the Smokies. We have higher than normal flows and for the time being, and fairly cool water. I think, through the weekend, the low elevation stream will warm. You should probably fish the mid to high elevations for that reason.
Another reason to fish the higher elevations, in the backcountry, is to avoid tubers and swimmers this weekend. Hiking in a bit, will put you in a better place, with less people and cooler water.
Trout are taking dries and nymphs. Dry fly choices should include, Smoky Mountain Candy, Rob's Hellbender, Yellow Neversink Caddis, Yellow Elk Hair Caddis, Yellow Stimulator, or any Yellow Sally Stonefly pattern. Other dry flies may work too. I would use a Green or Pink Weenie for my nymph dropper or fished alone and weighted. You might do well using a Pheasant Tail Nymph or any other reasonable subsurface pattern.
Hopefully you can find a good generation schedule and fish a tailwater.
Go early or late to fish the lakes, when the sun is off the water. We may see some clouds over the next few days but that is not a given. There is no way I would fish a lake this weekend. The impoundments will be packed with boaters.
Since the water levels are holding up well, lowland rivers are an option. You will probably do well fishing for trout in the stocked waters in Townsend. Go early or late to avoid the tubers. There will be many on Little River this weekend.
Smallmouth bass fishing in the lowland rivers is good too, thanks to the higher than normal flows. Go early, late, or fish the shaded banks. Poppers are working. I love popper fishing for smallmouth bass. Even better, is sight fishing with poppers for smallmouth bass.
Sight fishing is always better than blind casting, in my opinion. I like to see the fish first, then watch with heightened anticipation, for the fish to move toward my fly and grab it. That happens fairly often when smallmouth bass fishing. What a rush that is!
All this talk about sight fishing is making me want to go. I've got to work for many days straight. I think I fished at least 17 days so far in May. Now it is time to pay the price.
You can go instead and I'll feel good on your behalf.
Have a great day and thank you for being here with us.
Byron Begley
May 22, 2019
Respond to: byron@littleriveroutfitters.com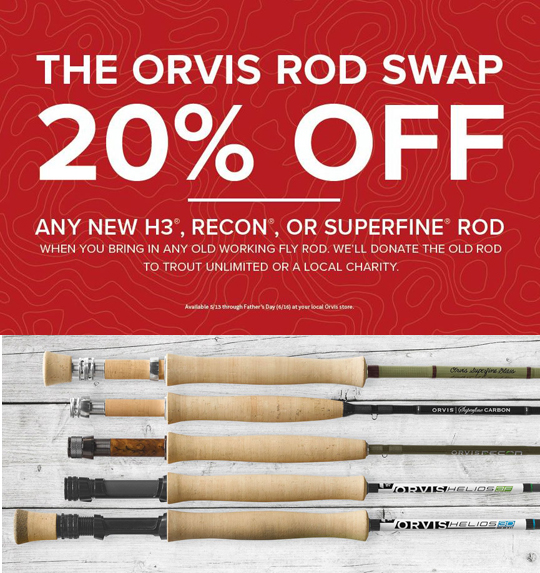 Orvis is doing their Rod Swap promotion again this year. The idea is very simple. Just bring us a functional fly rod and you receive 20% off the regular price of an Orvis Helios3, Recon or Superfine series rod. The rod you bring needs to be in usable condition as it will be donated to a non-profit fishing organization.
The online store won't give you credit for this so if you want to do this via the mail please give us a call and we'll get it all set for you. The promotion begins today and runs all the way till Father's Day. If you want a great rod at a great price this is the perfect opportunity.