If you do not see today's Fishing Report, please refresh your browser to empty your cache.
Welcome to the Fishing Report from Townsend, Tennessee in the Great Smoky Mountains. At 6:57 am, the temperature outside is 66 degrees.
It is warming and it is going to be hot. We should expect high temperatures in the low 90's through Memorial Day and beyond. Lows at night will drop only to the upper 60's. There is almost no chance for rain through next Wednesday.
Little River is flowing at 196 cubic feet per second (cfs) or 1.97 feet on the flow gauge. Median flow for this date is 189 cfs. The water temperature is 65.7 degrees this morning. The temperature peaked yesterday at a little over 68 degrees, at the low elevation USGS site near Townsend. The water will be cooler in the mid to high elevation streams.
Fishing is still very good. Anglers are catching trout on dry flies and nymphs. Yellow is still the preferred dry fly color. Try Yellow Stimulator, Yellow Elk Hair Caddis, Rob's Stimulator, Smoky Mountain Candy, Yellow Neversink Caddis, or any Yellow Sally Stonefly pattern. I would be using Green or Pink Weenies for my dropper or as a sub-surface fly fished weighted and alone.
The water temperatures for the most part are within the trout's preferred range. The fish are hungry and feeding on just about anything that looks like food. Over the next few days, the temps will rise. Fishing in the lowest elevations is probably not a good idea. I hate catching trout when the water temperature is 70 degrees or warmer. The water lacks sufficient oxygen at warmer temperatures. The trout are stressed enough without us pestering them.
You can avoid the warmer water by fishing early and moving to a higher elevation later in the day. Fishing is good in the evenings, especially dry fly fishing.
As water levels are dropping, stealth is very important to your success. Wear muted clothing and stay low if you can. You do not want the trout to see you. Once they do, the game is usually over. Don't cast a shadow over the area you are fishing.
Get a good drift. If your fly is moving faster or slower than the current it is in, the trout will not likely eat your offering. They watch food and other things move by at the same speed as the current all day long. If your fly is not doing that, the trout will be suspicious.
Also important, is not allowing your fly line to hit the water on top of the trout. Work your way upstream, showing the fish only your fly and leader. Once you have fished the area, move further upstream.
You can't stay in one spot too long and expect these wild trout to take your fly after they have been spooked by you or your fly line. Keep moving. You will catch more trout if you do.
The streams are not flowing low right now. Most are at their normal level. In a few days, that will likely not be the case. Lower water offers us more challenges. That is normal during the Summer months.
The above is just a reminder for those who are beginners or new to fishing for wild trout in the Smokies, and not catching them right now.
The lowland rivers are fishing well. Smallmouth bass and other species are taking poppers and other topwater flies. They may also be caught using streamers or nymphs.
I think the lakes are fishing well, early and late. I would be on the lake at daybreak. I have always found that the fish move to deeper water or near cover when the sun is on the water. Since we use fly rods, we are typically fishing shallow. You may find many different gamefish attacking shad on the surface, during periods of low light. I usually fish the lakes on cloudy days or go early or late.
I am hoping for good generation schedules on the tailwaters over the next few days, especially over the holiday weekend. Check the TVA website and pick a tailwater to fish, if the generation schedule works with yours.
It would be nice if we had cooler days and clouds coming, but we can't control that.
Have a great day and thank you for being here with us.
Byron Begley
May 23, 2019
Respond to: byron@littleriveroutfitters.com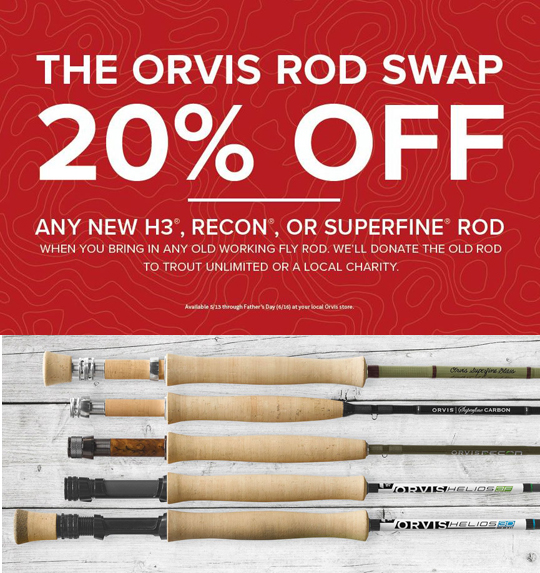 Orvis is doing their Rod Swap promotion again this year. The idea is very simple. Just bring us a functional fly rod and you receive 20% off the regular price of an Orvis Helios3, Recon or Superfine series rod. The rod you bring needs to be in usable condition as it will be donated to a non-profit fishing organization.
The online store won't give you credit for this so if you want to do this via the mail please give us a call and we'll get it all set for you. The promotion begins today and runs all the way till Father's Day. If you want a great rod at a great price this is the perfect opportunity.