If you do not see today's Fishing Report, please refresh your browser to empty your cache.
Welcome to the Fishing Report from Townsend, Tennessee in the Great Smoky Mountains. At 7:05 am, the temperature outside is 64 degrees.
The high temperature yesterday reached 90 degrees at 3:04 pm in Townsend. The Knoxville Airport reported a high of 88 degrees.
Today will be hot again, with a predicted high of 88 degrees. Highs of 90 degrees are predicted for Saturday and Sunday. Expect 91 degrees Monday and 92 to 94 Tuesday. There is only a slight chance for rain through the weekend.
Little River is flowing at 178 cubic feet per second (cfs) or 1.91 feet on the gauge. Median flow for this date is 186 cfs. The water temperature is 66 degrees this morning. Yesterday, that number reached almost 69 degrees, at the low elevation USGS gauge in Townsend.
Here is what to expect this holiday weekend:
The roads and rivers along the roads will be crowded. You will see swimmers and tubers in those rivers. To escape that, hike into the backcountry. I would fish above Elkmont, on Lynn Camp Prong or any backcountry stream along trails. There are many to choose from.
Little River in Townsend will be full of tubers, during the day. If you plan to fish for trout through town, go early.
Water temperatures in the low elevations will be warm, exceeding 70 degrees at some point during the day, each day. That is unhealthy for trout you release. Seek higher ground where the water is cooler. In the Little River Watershed, the East Prong above Elkmont, upper Middle Prong, Thunderhead Prong or Lynn Camp Prong will be cooler than the low elevations.
Streams will continue to recede. They are at about normal today, so you should not encounter extremely low water. Flows will likely be below median flow, unless an isolated thunderstorm raises some temporarily. The chance for that is low.
It will be sunny at times, but cloud cover is possible part of the day Sunday, and Monday morning. Early and late will be best when the sun is off the water. You can always find shaded areas of streams to fish, especially in the backcountry, where the streams are smaller and the canopy is thick.
If you want to fish the low elevations, go early. Otherwise, fish the mid to high elevation streams where you will find cooler water.
You will see some hatches of aquatic insects, especially in the evening.
Due to the lower water, stealth is of the utmost importance to your success. Dress to blend with the forest. Stay low if you can. Avoid being seen by the trout.
Try not to wade much at all, until you have fished an area and plan to move further upstream. Then, sneak up to the next pool or riffle.
Fishing is good. Trout will be taking dry flies and nymphs. I would use Yellow Sally Stonefly imitations for my dry and a Green or Pink Weenie as my dropper. You can also fish with the Weenies alone and weighted. Other reasonable patterns will work too. With the water temperatures we have now, the trout's metabolism is in high gear. The fish will be hungry. Just about any normal fly will work if it is presented carefully and you get a good drift.
There is no way I would fish on a lake this weekend. That would not be a good experience for me. You could go early, at daybreak, and get some relief from the crowds.
The lowland rivers are fishing well, for smallmouth bass and sunfishes. Poppers are working. The fish are active. Go early or late when the sun is off the water. If you are fishing mid-day, hit the shaded banks with your poppers.
The tailwaters should be fishing well for trout or smallmouth bass. Of course, that depends on dam releases. There are many tailwaters in Tennessee to choose from. Check the TVA website for current flow predictions before going.
I think I'll work all weekend. It is nice and cool in the shop. We will be busy. I'm still catching up from being on vacation.
Have a great day and thank you for being here with us.
Byron Begley
May 24, 2019
Respond to: byron@littleriveroutfitters.com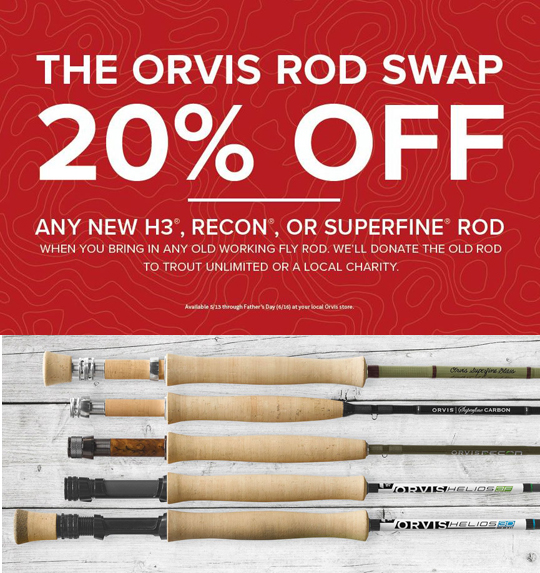 Orvis is doing their Rod Swap promotion again this year. The idea is very simple. Just bring us a functional fly rod and you receive 20% off the regular price of an Orvis Helios3, Recon or Superfine series rod. The rod you bring needs to be in usable condition as it will be donated to a non-profit fishing organization.
The online store won't give you credit for this so if you want to do this via the mail please give us a call and we'll get it all set for you. The promotion begins today and runs all the way till Father's Day. If you want a great rod at a great price this is the perfect opportunity.