If you do not see today's Fishing Report, please refresh your browser to empty your cache.
Welcome to the Fishing Report from Townsend, Tennessee in the Great Smoky Mountains. At 7:12 am, the temperature outside is 65 degrees.
The high temperature yesterday was 94 degrees in Townsend. The Knoxville Airport reported a high of 90 degrees. That compares to the record for this date of 92 degrees, set in 1904.
The heat wave will continue through next Thursday. We will see high temperatures in the low 90's every day through Wednesday. Lows at night will be in the upper 60's. We won't see any rain through the period, at least until next Friday.
Little River is flowing at 167 cubic feet per second (cfs) or 1.87 feet on the flow gauge. Median flow for this date is 190 cfs. The water temperature is 67.1 degrees this morning. Yesterday, the temperature at the low elevation gauge rose to 71 degrees.
We will have warm water in the low elevations of the Smoky Mountains through the weekend. For the health of the trout you release, it would be best to fish the mid to high elevations where the water is cooler. Warm water does not hold dissolved oxygen well. 70 degrees is mine and many guides I know, the threshold that encourages us to fish where the water is cooler.
I think you will be fine fishing around Elkmont, the upper Middle Prong, Lynn Camp Prong and Abrams Creek. There are many higher elevation streams where the water will be tolerable to the trout.
The Park is crowded. The larger rivers along the roads will be inundated with swimmers and tubers. For your enjoyment, hike a mile or two into the backcountry to fish. You will have a much better day.
Fishing is still good. Trout are taking dry flies and nymphs. Stealth is very important now. If the trout see you or they are spooked by your fly line, they will run for cover. Wear muted clothing and stay low. Hide behind boulders and trees. Don't wade hardly at all in the riffle or pool where you are fishing. And, get a good drift. If your fly is moving faster or slower than the current where it is drifting, the trout probably will not take it.
I would use a Yellow Elk Hair Caddis, Yellow Stimulator, Rob's Hellbender, Smoky Mountain Candy, Yellow Neversink Caddis or any Yellow Sally Stonefly pattern for my dry fly. I would use a Green or Pink Weenie for my dropper or fish them alone and weighted.
The lowland rivers are still fishing well. Poppers are taking smallmouth bass and rock bass. Sunfishes are taking poppers too. Go early or late when the sun is off the water, or fish the shaded banks during the day. Trout can be caught on Little River in town. Go early or late to avoid the tubers.
TVA and the Corps are offering angler friendly generation schedules on some of our tailwaters today. It is good to see better flows on the Caney Fork below Center Hill Dam. Check out Cherokee Dam today. If you are floating, there are options available to you on other tailwaters. TVA needs electricity, due to the heat wave.
You won't see me on a lake this weekend. If you go to fish, do it early or late. Fly fishing with poppers and streamers is good right now. It's tough during the day though, because it is not overcast.
I hope you enjoy fishing somewhere this weekend.
I built a small Euro Nymphing department in our fly tying department about two months ago. Yesterday, I enlarged it. In it you will find Hanak, Tiemco, Umpqua, Fulling Mills and Daiichi competition barbless hooks. Many are 60 degree jig hooks. You will also find a huge selection of tungsten beads, in colors we have never stocked before.
Word got around. Now, people who tie Euro style flies found us and that department is doing very well. Come on by and check it out. I ordered to re-stock it this week. Hanak hooks and beads showed up yesterday and they are on the wall. Umpqua beads were ordered a couple of days ago, but right now, we still have plenty left.
I thought this might work, but I didn't expect it to work this well so soon.
Have a great day and thank you for being here with us.
Byron Begley
May 25, 2019
Respond to: byron@littleriveroutfitters.com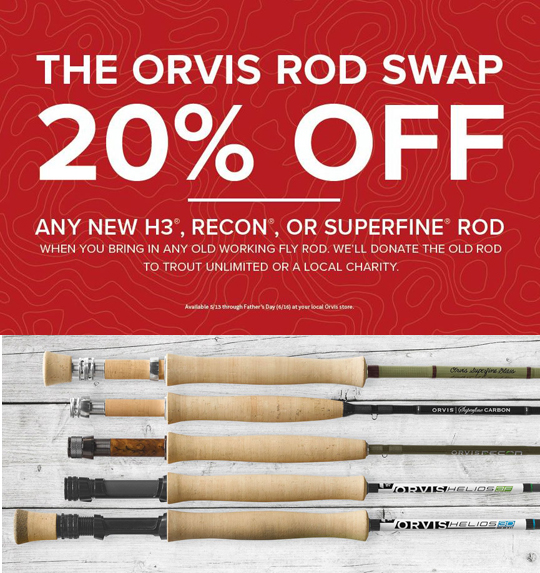 Orvis is doing their Rod Swap promotion again this year. The idea is very simple. Just bring us a functional fly rod and you receive 20% off the regular price of an Orvis Helios3, Recon or Superfine series rod. The rod you bring needs to be in usable condition as it will be donated to a non-profit fishing organization.
The online store won't give you credit for this so if you want to do this via the mail please give us a call and we'll get it all set for you. The promotion begins today and runs all the way till Father's Day. If you want a great rod at a great price this is the perfect opportunity.