If you do not see today's Fishing Report, please refresh your browser to empty your cache.
Welcome to the Fishing Report from Townsend, Tennessee in the Great Smoky Mountains. At 6:59 am, the temperature outside is 65 degrees.
The high temperature yesterday was recorded at 91 degrees at the Knoxville Airport and 92 degrees in Townsend.
Today and tomorrow will be sunny and hot, with high temperatures reaching near or above 90 degrees. Lows at night will be in the upper 60's. No rain is predicted through tomorrow.
Little River is flowing at 156 cubic feet per second (cfs) or 1.83 feet on the flow gauge. Median flow for this date is 192 cfs. The water temperature is 67.6 degrees this morning. Yesterday, the water temperature at the Townsend USGS gauge rose to over 71 degrees. The gauge site is at a low elevation on Little River. The water is cooler in the higher elevations.
Fishing remains good. Water temperatures in the low elevations are rising above 70 degrees during the day. Warm water depletes dissolved oxygen, which is unhealthy for trout. Do the fish a favor and fish the higher elevations where the water is cooler.
Try the East Prong of Little River near or above Elkmont. Upper Middle Prong, Lynn Camp Prong, Thunderhead Prong and Abrams Creek will be cooler. It is a very good idea to keep a thermometer with you while fishing to check the water temperature. If the water becomes warm, move to a higher elevation.
Yellow Sally Stonefly patterns are a good choice for your dry fly. Green and Pink Weenies well serve as a nymph dropper or fished alone and weighted.
Smallmouth bass, rock bass and sunfishes are taking poppers on the lowland rivers. The smallies are also slurping down poppers on the lower tailwaters.
The lakes are crowded of course. Go early or late to avoid the mass of pleasure boaters and jet skis. I would wait until Tuesday to go. I never fish a lake around here on weekends.
Check the TVA website and choose a trout tailwater that has an angler friendly generation schedule today. Some do today and some do not.
If you want to fish for trout in the stocked waters through Townsend, go early or late. Tubing season has begun.
It is very hot during the day. Humidity is climbing to very high numbers later each day. Drink plenty of fluids. Hopefully this heat wave will soon be over. It has been comfortable in the mornings and evenings. I grilled out last night and it was enjoyable. Paula is smoking ribs for several hours today. She is using her brand new "huge" electric smoker. Looking forward to them!
It may seem odd, but our meat smoking setup is located on the upstairs front porch. We hope it is less likely a bear will climb up there. They can! There are no outside stairs leading to that porch. When I'm grilling outside, that is done at ground level. I stay at the grill during the warm months, to discourage bears for gorging on our food. So far, the grill and smokers have been left alone by bears, for over 25 years. I have watched bears walk right by the grill and ignore it. I was not cooking at the time.
We have a small electric pressure washer located next to the grill cleaning table. I put the grill grate on the concrete pad and blow off the baked on stain. We'll use it to clean the smoker grates too. Try it. You will be pleasantly surprised. You don't need a high psi washer to do this. The one I use was inexpensive. I keep a hose hooked up to it. The results are well worth the cost.
Have a great day and thank you for being here with us.
Byron Begley
May 26, 2019
Respond to: byron@littleriveroutfitters.com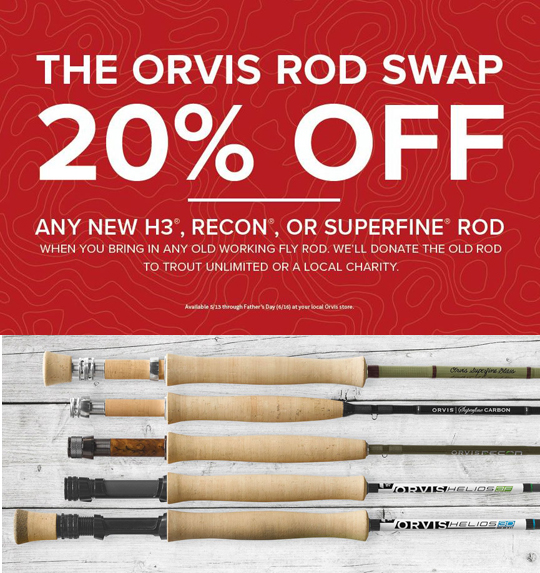 Orvis is doing their Rod Swap promotion again this year. The idea is very simple. Just bring us a functional fly rod and you receive 20% off the regular price of an Orvis Helios3, Recon or Superfine series rod. The rod you bring needs to be in usable condition as it will be donated to a non-profit fishing organization.
The online store won't give you credit for this so if you want to do this via the mail please give us a call and we'll get it all set for you. The promotion begins today and runs all the way till Father's Day. If you want a great rod at a great price this is the perfect opportunity.