If you do not see today's Fishing Report, please refresh your browser to empty your cache.
Welcome to the Fishing Report from Townsend, Tennessee in the Great Smoky Mountains. At 6:59 am, the temperature outside is 65 degrees.
Today will be hot again, with a high near or exceeding 90 degrees. The low tonight will be in the high 60's. No rain is predicted today, through Wednesday.
Little River is flowing at 146 cubic feet per second (cfs) or 1.79 feet on the gauge. Median flow for this date is 209 cfs. The water temperature is 68 degrees at the low elevation gauge site near Townsend. Yesterday, the temperature rose to over 72 degrees at that location.
With the warm water temperatures we have in the low elevations, you should fish higher, where the water is cooler. The fishing will be better. The trout will not be as stressed as those living in the low elevations. Warm water depletes oxygen, making it unhealthy for the trout you release.
Fishing is still good though the water levels are falling. Hike into the backcountry a mile or so, at a mid to high elevation stream. There you will find something similar to solitude, and better fishing conditions.
I would use any Yellow Sally Stonefly imitation for my dry fly. Yellow Elk Hair Caddis and Yellow Neversink Caddis work well during the Summer. I think the trout believe they are stoneflies. A Yellow Stimulator is another good pattern to use, in size #16. And, there are many more Yellow Sally dry flies to choose from.
A Green or Pink Weenie works well for your subsurface fly. Use one as a dropper of fish it alone and weighted.
Many fly patterns will work, including terrestrials. The trout are hungry and looking for food.
Stealth is paramount to success. Dress to blend in. Don't spook the trout by landing your fly line near them. Let them see the fly and maybe your tippet, and you will catch more.
Lower flows force us to use lighter tippet that hopefully will not be seen by the trout. I would use 5X and maybe 6X.
Lowland River fishing is fair to good, depending on where you go. Smallmouth bass, rock bass and sunfishes can be caught on poppers. Go early or late or fish the shaded areas of the streams. Hit the shaded banks with your popper.
I would avoid the lakes today. They will be crowded. Wait until tomorrow. Go early or late. We may have some cloudy days later this week. That is an advantage for us who fish the lakes with fly rods in shallow water. Also, on overcast days, threadfin shad can be found on the surface of the lakes, with gamefish feeding on them. The shad follow the light sensitive plankton to the surface. Threadfins are filter feeders, dining mostly on plankton.
Maybe your favorite tailwater will be fishable today. Check the TVA website to see if their generation schedule works with yours.
Today we remember and honor those brave men and women in our Armed Forces, who fought and died for America. They made the ultimate sacrifice for us. They should all be honored and serve as a reminder to us all, they will not be the last and we have the responsibility to serve when called upon.
Have a great day and thank you for being here with us.
Byron Begley
May 27, 2019
Respond to: byron@littleriveroutfitters.com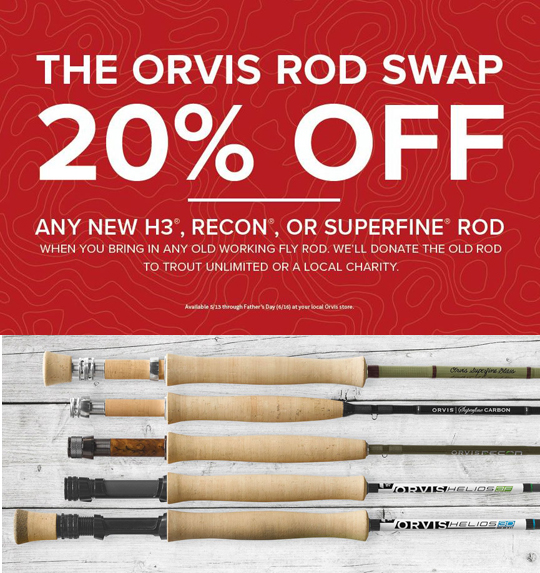 Orvis is doing their Rod Swap promotion again this year. The idea is very simple. Just bring us a functional fly rod and you receive 20% off the regular price of an Orvis Helios3, Recon or Superfine series rod. The rod you bring needs to be in usable condition as it will be donated to a non-profit fishing organization.
The online store won't give you credit for this so if you want to do this via the mail please give us a call and we'll get it all set for you. The promotion begins today and runs all the way till Father's Day. If you want a great rod at a great price this is the perfect opportunity.