If you do not see today's Fishing Report, please refresh your browser to empty your cache.
Welcome to the Fishing Report from Townsend, Tennessee in the Great Smoky Mountains. At 6:59 am, the temperature outside is 64 degrees.
We can expect hot days through Thursday, with highs near or exceeding 90 degrees. There is only a slight chance for rain during the period. It should be cooler this coming weekend. We are all looking forward to that.
Little River is flowing at 136 cubic feet per second (cfs) or 1.75 feet on the flow gauge. Median flow for this date is 190 cfs. The water temperature is 68 degrees this morning.
Water temperatures are a concern in the low elevations. We are seeing temps exceed 70 degrees every day. This is not healthy for the trout you release. All you have to do is drive upstream to a higher elevation, where the water is cooler. Check the East Prong of Little River at Metcalf Bottoms or higher. The upper Middle Prong and West Prong will be cooler. Lynn Camp Prong will be fine. Abrams Creek will be cool around and below the Falls Trailhead. Or, you could go higher.
All I heard this weekend from customers is, "The Park was crowded". Evidently, most if not all of the pull offs along the streams were occupied at mid-day. That should not be as much of a problem now that the holiday weekend is over. I drove to the shop at 6:35 am this morning and saw almost no vehicles on the road.
Fishing is good. The streams are more like the level we see during the Summer. Many anglers prefer the lower water, like we have now.
Trout will take dry flies or nymphs. The fly you use is not nearly as important as stealth and presentation. If it looks like natural food, the trout will take your fly, if you don't spook them. Wear muted clothing and stay as low as you can. Only let the trout in the pool or riffle you are fishing see your fly and tippet. If your fly line lands on their head, they will be spooked. Get a good drift or make sure your fly is drifting in the current at the same speed as the current. Watch your fly and the bubbles. If they are tracking together, all is good.
I would use Yellow Sally Stonefly imitations but other patterns will work. An Elk Hair Caddis or Stimulator are good choices, especially yellow ones. A Yellow Neversink Caddis is one of our best selling Summer flies, if not the best. They look like a small stonefly, from the trout's perspective.
For a dropper I would use a Green Weenie. And, I might fish it alone and weighted. If I'm fishing in brook trout waters, a Pink Weenie would be my choice.
If you plan to fish a lowland river, go early or late. If you are fishing when the sun is one the water, hit the shaded areas with a popper. You should catch smallmouth bass, rock bass or sunfish.
I would go to the lakes early or late, when the sun is off the water. When we get an overcast day, go then. Use streamers or poppers. A Rubber Legged Dragon will produce larger bluegill for you, deep. Let the fly sink for a minute, then slowly retrieve. They are deadly. I have a box of them I tied a while ago, in every color you can think of.
There are some breaks in the generation schedules on many of the State's tailwaters today. Visit the TVA website to see if you can squeeze in some tailwater fishing.
Try to go if you can. You have many options.
Have a great day and thank you for being here with us.
Byron Begley
May 28, 2019
Respond to: byron@littleriveroutfitters.com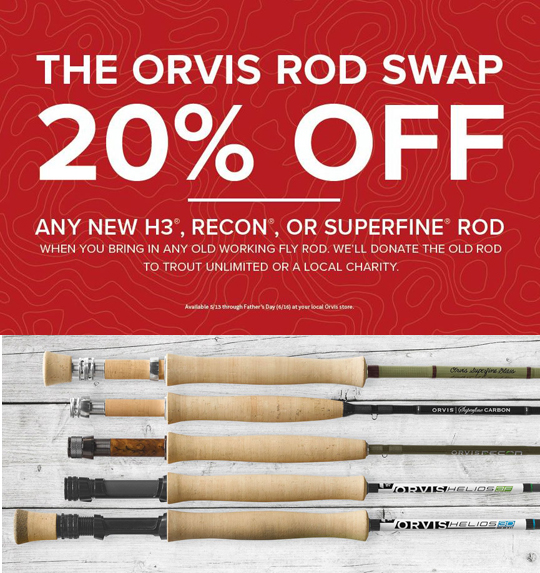 Orvis is doing their Rod Swap promotion again this year. The idea is very simple. Just bring us a functional fly rod and you receive 20% off the regular price of an Orvis Helios3, Recon or Superfine series rod. The rod you bring needs to be in usable condition as it will be donated to a non-profit fishing organization.
The online store won't give you credit for this so if you want to do this via the mail please give us a call and we'll get it all set for you. The promotion begins today and runs all the way till Father's Day. If you want a great rod at a great price this is the perfect opportunity.