If you do not see today's Fishing Report, please refresh your browser to empty your cache.
Welcome to the Fishing Report from Townsend, Tennessee in the Great Smoky Mountains. At 6:53 am, the temperature outside is 68 degrees.
Today is going to be another hot one, 90 degrees or hotter. Daytime temperatures will be a little cooler tomorrow, and much cooler Friday. We may get some rain Friday. The weekend will be mostly sunny and cooler, with highs in the low 80's and lows in the low 60's. That is much better.
Little River is flowing at 129 cubic feet per second (cfs) or 1.72 feet on the flow gauge. Median flow for this date is 192 cfs. The water temperature is 68.7 degrees this morning. Yesterday, the water temp rose to over 72 degrees, at the low elevation gauge site near Townsend.
For that reason, we should all be fishing the mid to high elevations until this heat wave ends. Upper Middle Prong, Lynn Camp Prong, upper West Prong and Abrams Creek should be fine. The upper East Prong of Little River near Elkmont should be cooler too.
It is going to be sunny again today. When the sun is on the water, nymphs are a good choice. Try just about any reasonable nymph, weighted. A Green Weenie is certainly a good choice. Late in the day, when the sun is off the water, dry flies are what I would use. Try any Yellow Sally Stonefly imitation. Good examples are, Yellow Stimulator, Yellow Elk Hair Caddis, Rob's Hellbender, Yellow Neversink Caddis and there are many others.
Honestly, if you get a good drift and do not spook the trout, they will hit about any normal dry fly. The fish are hungry and looking for food.
Don't forget to blend in with the forest, by wearing muted clothing. The streams are fairly low and the trout can easily see you. Stay low and hide.
The weekend holiday crowds have diminished. I drove through town at 6:40 am this morning and saw almost no traffic. There are many people tubing though, later in the day. If you plan to fish the stocked waters in town, go early or late.
Poppers are working for smallmouth bass, rock bass and sunfishes in the lowland rivers. Fishing will be best early or late when the sun is off the water. Otherwise, if you fish during the heat of the day, hit the shaded banks with poppers, nymphs or streamers.
Poppers are working on the lakes early or late. Rubber legged dragons are producing too. Wooly Buggers and Threadfin Shad imitations will produce as well. What we need are some overcast days to fly fish all day on the lakes.
I see some fly fishing opportunities on the Caney Fork again today. I'm loving that for anglers in Middle Tennessee. You folks deserve it.
You might be able to squeeze in some fishing time on the Holston or the Clinch today. Visit the TVA website to see what is going on at your favorite tailwater.
We have been waiting for over two weeks for a shipment of BoogleBug poppers. They arrived yesterday. We have a ton in stock now, just in time.
BoogleBug poppers are awesome. They are durable and beautiful. You can see our selection, on the online store by CLICKING HERE. We sell a lot of them online. Ground shipping is free. We also sell them to visiting anglers and local anglers in the shop.
If you have not tried BoogleBugs, you should.
Paula and I will be working on the landscaping at the shop tomorrow morning and Friday morning. We will start working at daybreak, when it will be cooler. Daniel will be writing the fishing report on those days. She and I are having our building painted next month, so we need to prune all the trees close to it.
I know, we picked the worst time to do this but that could not be helped. We were in Florida for three weeks and just returned a little over a week ago. Before that, I was working in the shop 7 days a week. You are going to like the new color scheme on our shop building. We built it and moved the shop in a little over 15 years ago. This is the third time it will be painted. Getting a building like this one painted is "expensive". I hate that part of it.
Have a great day and thank you for being here with us.
Byron Begley
May 29, 2019
Respond to: byron@littleriveroutfitters.com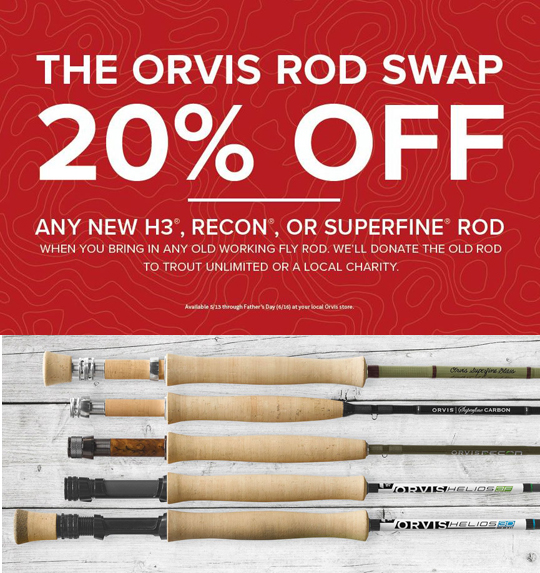 Orvis is doing their Rod Swap promotion again this year. The idea is very simple. Just bring us a functional fly rod and you receive 20% off the regular price of an Orvis Helios3, Recon or Superfine series rod. The rod you bring needs to be in usable condition as it will be donated to a non-profit fishing organization.
The online store won't give you credit for this so if you want to do this via the mail please give us a call and we'll get it all set for you. The promotion begins today and runs all the way till Father's Day. If you want a great rod at a great price this is the perfect opportunity.