If you do not see today's Fishing Report, please refresh your browser to empty your cache.
Welcome to the Fishing Report from Townsend, Tennessee in the Great Smoky Mountains. The sun is shining bright this morning. It isn't too hot out now but it is going to be in the upper 80's again today.
The weather for the next week is more of the same. Sun and more sun. We are going to start cooling a little. This weekend the highs are only in the low 80's. Monday should have lows in the 50's. Cooler nighttime temperatures help to keep water temperatures from getting too hot.
Water levels are a little below normal which at this time of year makes for good fishing conditions. This morning the Little River gauge is giving a reading of 1.69 feet or 121 c.f.s. This is below the daily normal of 185 c.f.s.
Water temperatures are warm in the lower elevations. This morning the gauge reads 68.7F. Higher up the river towards Elkmont and Tremont you will find cooler water. As the water warms, the trout will move into the faster, more broken water where the oxygen levels are better. This time of year you might as well avoid the big, slow pools.
Fishing will be better early in the morning or later in the afternoon. I would go late....but that is mostly because it is easier for me to get to the stream. Yellow Sallies hatch late in the day. We seldom get big hatches here in the Smokies but every now and then you will luck into a big sally hatch.
Lighter colors are the way to go for dry flies. Try Smoky Mountain Candy, Yellow Sally, Neversink Caddis, Rob's Hellbender, Yellow Stimulator, Doculator, etc. #14 to #16 is best. You may want to go a little larger is you plan on using a dropper. A Green Weenie makes an excellent dropper this time of year.
Terrestrial patterns are a fun way to fish, especially through the mid part of the day. Beetles and ants can be very effective. You can just plop a beetle out on the water and see the trout come running. Ants can be difficult to fish with because they are smal and dark. I prefer to use one of the black fur ants or hard body ants as a dropper behind a yellow sally.
Nymphs continue to work well. There is always nymphs on the bottom. If you want to catch more trout on nymphs, get them down to the bottom. Heavily weighted flies and split shot will help you get to the bottom.
Byron and Paula have been hard at it today since long before we all arrived. They are trimming bushes around the Shop. Last year when I was looking for photos from Fly Tyers Weekend I found a picture from one of the first events we did years ago. The holly bushes out behind Shop were so small you could see the air conditioner units. Now they are are probably 20 feet tall.
If you haven't been up to Townsend yet this year....there is a stop light on 321 when you are in the two lane corners. There was a rock slide early in the year and they are working on stabilizing the hill. It doesn't take very long most of the time, maybe 5-7 minutes depending on when you get to it. If you don't want to wait you can cross over the river at Walland and take Old Walland Hwy along the river. It is a slower route by 5-7 minutes so most of the time it takes you the same amount of time but you don't have to sit stopped on the road getting fidgity. Watch for bicyclists along the old road. If you are pulling a trailer you should stick to the main highway and be patient.
Have a great day and thank you for being here with us.
Daniel Drake
May 30, 2019
Respond to: byron@littleriveroutfitters.com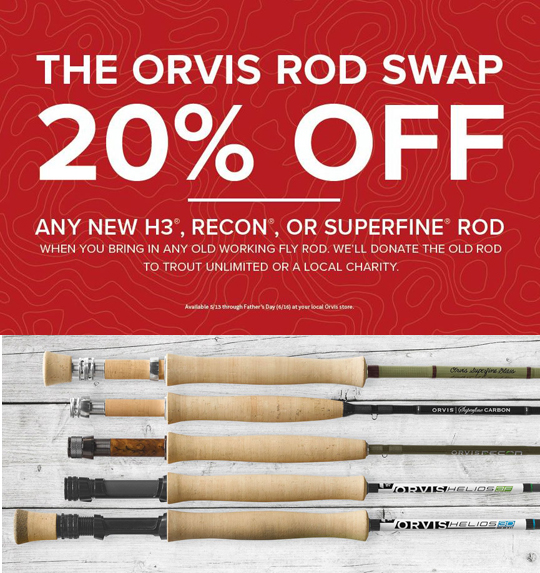 Orvis is doing their Rod Swap promotion again this year. The idea is very simple. Just bring us a functional fly rod and you receive 20% off the regular price of an Orvis Helios3, Recon or Superfine series rod. The rod you bring needs to be in usable condition as it will be donated to a non-profit fishing organization.
The online store won't give you credit for this so if you want to do this via the mail please give us a call and we'll get it all set for you. The promotion begins today and runs all the way till Father's Day. If you want a great rod at a great price this is the perfect opportunity.