If you do not see today's Fishing Report, please refresh your browser to empty your cache.
Welcome to the Fishing Report from Townsend, Tennessee in the Great Smoky Mountains. It is fairly cool this morning here at the Shop. Paula and Byron might disagree. They have been outside planting flowers and plants since long before we got here. The landscaping is looking great after some bushes got chopped out and new flowers added.
Some rain fell on the mountains last night. It wasn't enough to change water flows much. There is a small chance of rain mid-day today. Mostly it will be isolated storms. The weekend is going to be beautiful! The highs will only be in the mid to low 80's and it will be cool overnight.
Water levels on the Little River are still on the slightly low side. This morning the gauge is giving a reading of 1.69 feet or 121 c.f.s. The daily normal for today is 174 c.f.s. Water clarity is still good.
Water temperatures are warming. The Little River gauge is reading 69F this morning. The mid to high elevation streams will be cooler and fishing better. As the water warms, the trout will move into the fast broken water.
Anglers will come in and tell us that the haven't caught anything or even seen anything. When we inquire about where they are fishing they say they are trying the big deep pools. That is not a good place to fish this time of year. Warm water doesn't hold disolved oxygen as well so when water temperatures rise the trout will move into the fast broken water where they can breathe better. A trout only requires enough water to cover their gills. Big deep pools are also hard because the trout that might be there are going to be way down at the bottom so unless you have a very fast sinking line your aren't going to get your flies down to where the trout would be anyway.
Fish the fast water. Your casts will be short. Keep as much line off the water as you can. The drifts will be short. Make a few casts to each section of water then move onto the next one.
Light colored dry flies are good. Smoky Mountain Candy, Neversink Caddis, Yellow Stimulators, Rob's Hellbenders etc. Try a Green Weenie as a dropper fly.
Sorry this is brief. I got sidelined by the lady we buy t-shirts from. Good news though....I placed an order. No more being out of shirts.
If you go today keep an ear for the weather. Pop up thunderstorms can cause streams to rise quickly. There isn't a high chance of rain though so I would go no matter what.
Have a great day and thank you for being here with us.
Daniel Drake
May 31, 2019
Respond to: byron@littleriveroutfitters.com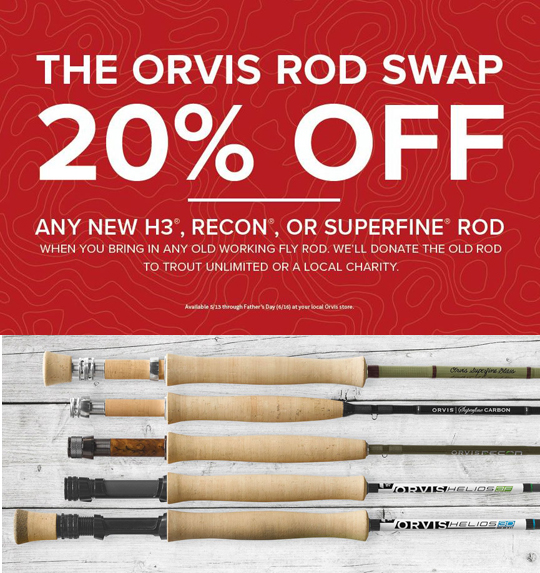 Orvis is doing their Rod Swap promotion again this year. The idea is very simple. Just bring us a functional fly rod and you receive 20% off the regular price of an Orvis Helios3, Recon or Superfine series rod. The rod you bring needs to be in usable condition as it will be donated to a non-profit fishing organization.
The online store won't give you credit for this so if you want to do this via the mail please give us a call and we'll get it all set for you. The promotion begins today and runs all the way till Father's Day. If you want a great rod at a great price this is the perfect opportunity.