If you do not see today's Fishing Report, please refresh your browser to empty your cache.
Welcome to the Fishing Report from Townsend, Tennessee in the Great Smoky Mountains. At 7:05 am, the temperature outside is 59 degrees.
We are going to enjoy a beautiful weekend. Highs will be in the low 80's today and tomorrow. It will be mostly Sunny both days. Lows at night will be in the high 50's to 60 degrees. There is a low chance for afternoon thunderstorms tomorrow afternoon.
We got some rain around the area yesterday. The Knoxville Airport reported .61" fell there. Some streams in the Park got a shot of water at midday. Their level rose temporarily but they receded quickly.
Little River is flowing at 119 cubic feet per second (cfs) or 1.68 feet on the flow gauge. Median flow for this date is 176 cfs. The water temperature is 66.5 degrees this morning.
Little Pigeon River is flowing above normal this morning. Flow is currently 369 cfs or 1.79 feet on the Sevierville gauge. Median flow there is 272 cfs for this date.
Oconaluftee River rose yesterday afternoon, but it receded to below median flow. Flow is 377 cfs or 1.73 feet. Median flow for this date is 392 cfs at the Birdtown gauge.
Cataloochee Creek is flowing slightly above median flow at 87.2 cfs or 2.50 feet on the gauge. Median flow there is 83 cfs for this date.
Water temperatures have fallen, and the streams in the Smokies will remain cool for a few days. We went through a period when the water was very warm in the low elevations during that awful heat wave. Now, temperatures are normal and within the trout's preferred range just about everywhere in the Park.
Fishing conditions are very good this morning. You should do well. I would go early or late but you can do well throughout the day. Find shaded areas of streams.
Dry flies or nymphs will work. Try any Yellow Sally Stonefly dry pattern. You will likely see them hatching late this evening. Anything yellow is recommended for dry fly choices.
I would use a Green or Pink Weenie as a dropper or fished alone and weighted for your subsurface pattern of choice. Many other reasonable nymphs will work too.
Lowland River fishing is good, for smallmouth bass, rock bass and sunfishes. Poppers are what I would use. I love popper fishing in rivers and lakes.
I've seen some great photos of nice trout and smallmouth bass this week, caught and released in the tailwaters. Check the TVA website to see if your favorite tailwater is fishable today. I checked several and many will have good flows today for anglers.
We should begin to enjoy more rain Wednesday and the days thereafter for a while. It's time for Summer afternoon thunderstorms. The outlook for rain through June 15th looks pretty good right now.
I also see overcast days in our future, next week. Those a perfect lake fishing days. Overcast days have been non-existent lately. When it is overcast, you can fish a lake all day with fly rods in shallow water. Poppers, nymphs and streamers will work. If you plan to go on a sunny day, go early or late, when the sun is off the water.
Gamefish and baitfish often stay shallow on dark days, which works well for us who use fly rods on the lakes.
I don't know about you but I'm enjoying this cooler weather. It is going to stay that way for a while. I walked out of the house at 6:45 am to drive to the shop this morning. It was chilly outside. This is good camping weather and good fishing weather.
Have a great day and thank you for being here with us.
Byron Begley
June 1, 2019
Respond to: byron@littleriveroutfitters.com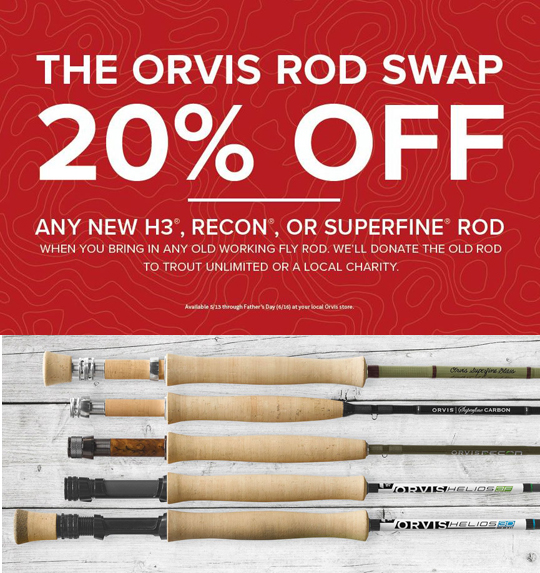 Orvis is doing their Rod Swap promotion again this year. The idea is very simple. Just bring us a functional fly rod and you receive 20% off the regular price of an Orvis Helios3, Recon or Superfine series rod. The rod you bring needs to be in usable condition as it will be donated to a non-profit fishing organization.
The online store won't give you credit for this so if you want to do this via the mail please give us a call and we'll get it all set for you. The promotion begins today and runs all the way till Father's Day. If you want a great rod at a great price this is the perfect opportunity.