If you do not see today's Fishing Report, please refresh your browser to empty your cache.
Welcome to the Fishing Report from Townsend, Tennessee in the Great Smoky Mountains. At 6:55 am, the temperature outside is 58 degrees.
This will be another pleasant day and night, with a high in the mid 80's and the low dipping into the 50's again tonight.
Little River is flowing at 107 cubic feet per second (cfs) or 1.63 feet on the flow gauge. Median flow for this date is 171 cfs. The water temperature is 66.7 degrees this morning. Yesterday, that number peaked at near 71 degrees. There is a slight chance for rain today. The heightened chance for rain comes Thursday, and lasts through June 16th, in the form of scattered thunderstorms.
Little Pigeon River is flowing above median flow at 321 cfs or 1.70 feet, compared to median flow of 284 cfs.
Both Oconaluftee River and Cataloochee Creek are flowing at or below median flow.
The streams are flowing fairly low, which is normal this time of the year. You may find spooky trout and certain precautions should be taken when fishing. Dress to blend with the forest. This is very important. Stay low to hide from the trout and you will catch more. Don't let your fly line land where you think the trout are hiding. The line will scare the heck out of them. Fish an area while only showing them your fly and tippet. Once you are confident you have given that area a good showing, move or cast a little further upstream and repeat.
Water temperatures in the lowest elevations are climbing to the 70 degree mark, which is warm. Fish the mid to high elevation streams where the water is cooler.
Fly choices this time of the year can be varied. Terrestrials are a good choice, ants and beetles. Elk Hair Caddis and small Stimulators are others. Any Yellow Sally stonefly imitation or other yellow flies that look like a yellow stone to the trout are good.
I would use a Green or Pink Weenie as a sub-surface fly, either as a dropper or fished alone.
Some lowland rivers are flowing low. Others are not. Low is normal now. Fishing for smallmouth bass and sunfishes will be best early or late, unless there is cloud cover. We may have some cloud cover today. Try poppers. They should work. If the sun is shining, hit the shaded areas of the river.
Fly fishing the lakes will probably be best early or late, unless we actually do have cloud cover today. I would use poppers, Byron's Knucklehead, Wooly Buggers, Puglisi Threadfin Shad or Rubber Legged Dragons. I love lake fishing in our boat. These flies are about all I have used for years.
TVA and the Corps of Engineers are giving us some wade or boat fishing opportunities today on several tailwaters. You can check your favorite river's generation schedules from the links below. Tailwater fly fishing for trout and smallmouth bass has been good.
We are busy at the shop. And, we are keeping it stocked well. I will be ordering fly tying materials today and doing other work in that department. May was one of the top sales months we have had, at least in the top five since 1994. June can be better than May. We have the job of taking care of customers and re-stocking the store. It is a balancing act. If we do both well, business is good.
Additionally, we are working on our building and grounds. Paula and I have been tending to the landscaping. She drives here every morning to water the new plants.
In mid June, the exterior of the building will be re-painted. The entry, which has always been weathered wood, will be painted using the off white to match the trim, exposed exterior rafters and eaves. I can't wait to see that.
Have a great day and thank you for being here with us.
Byron Begley
June 2, 2019
Respond to: byron@littleriveroutfitters.com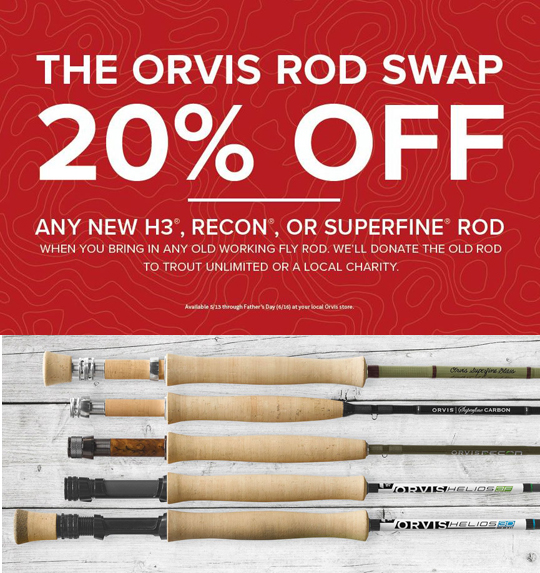 Orvis is doing their Rod Swap promotion again this year. The idea is very simple. Just bring us a functional fly rod and you receive 20% off the regular price of an Orvis Helios3, Recon or Superfine series rod. The rod you bring needs to be in usable condition as it will be donated to a non-profit fishing organization.
The online store won't give you credit for this so if you want to do this via the mail please give us a call and we'll get it all set for you. The promotion begins today and runs all the way till Father's Day. If you want a great rod at a great price this is the perfect opportunity.