If you do not see today's Fishing Report, please refresh your browser to empty your cache.
Welcome to the Fishing Report from Townsend, Tennessee in the Great Smoky Mountains. At 7:06 am, the temperature outside is 59 degrees.
It will be cooler today, with a high temperature in the upper 70's and a low tonight in the low 50's. No rain is predicted today. Tomorrow will be sunny and a little warmer. Rain will move in Wednesday afternoon, and continue through the weekend in the form of scattered thunderstorms. We ccould actually use some rain. Rainfall this year is up 10.51" above normal, at the Knoxville Airport. It has been very dry here lately.
Little River is flowing at 100 cubic feet per second (cfs) or 1.60 feet on the flow gauge. Median flow for this date is 163 cfs. The water temperature is 66.7 degrees this morning.
I would fish at the mid to high elevations where the water is cooler in the mountains. Try the upper Middle Prong of Little River, Lynn Camp Prong or Thunderhead Prong. The upper West Prong of Little River will be cool and shaded.
The East Prong of Little River should be good above Metcalf Bottoms to Elkmont, and above.
Until we get more water in the streams later this week, the trout will be spooky. To avoid scaring them, so you will have better success, wear muted clothing, hide and stay as low as you can. Avoid lining the fish, or letting your fly line land where the trout are hiding and feeding.
I would concentrate my efforts on shaded water. Fishing will be best early or late when the sun is off the water.
Warmer water temperatures cause the trout's metabolism to move into high gear. They need food. Any reasonable fly that mimics food should work. Try terrestrials, like ants and beetles. Yellow Sally Stonefly dry fly patterns are good choices. Green or Pink Weenies are good sub-surface patterns to use.
Lowland river fishing will be best early or late. If you are fishing during midday, cast to shaded water. Poppers, nymphs or streamers should all work, though I prefer poppers. Some rivers are flowing lower than others compared to median flow. Little Pigeon is flowing at median flow today. Little River is flowing below median flow. Smallmouth bass fishing has been good in some lowland rivers lately.
TVA and the Corps of Engineers are offering up some tailwater schedules today that may suit your location or preference. I like what I'm seeing at Center Hill Dam today. Check out the flows at Cherokee Dam. Norris turbines should be turned off for a period this morning. Visit the TVA website yourself to verify the current generation schedules.
It will be sunny today and tomorrow. Fly fishing on the lakes will be best early or late when the sun is off the water. Poppers, streamers and Rubber Legged Dragons will work. Look for shad schools on the surface, when the sun is off the water. Gamefish may be feeding on them. Use a Puglisi Threadfin Shad if you see that going on.
Later this week, if the thunderstorms don't run you off the lake, fishing may be very good, thanks to cloud cover.
Overall, fly fishing opportunities are varied and abundant right now. It is going to feel good outside. This will certainly be a comfortable fishing day.
Have a great day and thank you for being here with us.
Byron Begley
June 3, 2019
Respond to: byron@littleriveroutfitters.com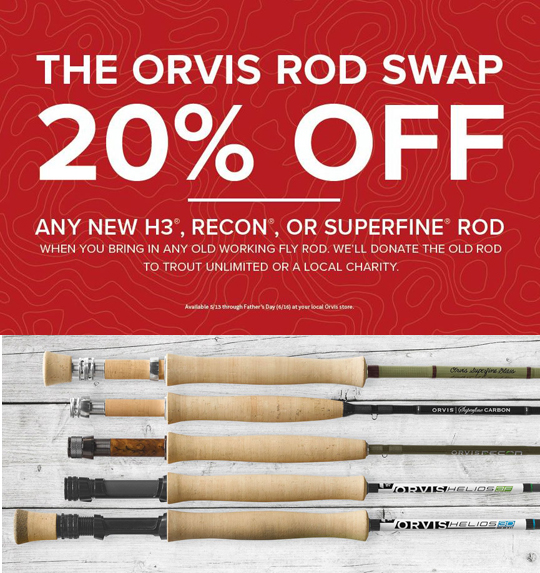 Orvis is doing their Rod Swap promotion again this year. The idea is very simple. Just bring us a functional fly rod and you receive 20% off the regular price of an Orvis Helios3, Recon or Superfine series rod. The rod you bring needs to be in usable condition as it will be donated to a non-profit fishing organization.
The online store won't give you credit for this so if you want to do this via the mail please give us a call and we'll get it all set for you. The promotion begins today and runs all the way till Father's Day. If you want a great rod at a great price this is the perfect opportunity.