If you do not see today's Fishing Report, please refresh your browser to empty your cache.
Welcome to the Fishing Report from Townsend, Tennessee in the Great Smoky Mountains. At 7:07 am, the temperature outside is 56 degrees.
Today will be beautiful, sunny and a high temperature in the upper 70's to low 80's. Rain in the form of showers or thunderstorms will move into the region tomorrow and remain through the weekend. Some storms may be strong, especially this weekend. Rainfall amounts of 2 to 3 inches are possible in this system over the next few days. We need rain, but we don't need that much.
Little River is flowing at 96 cubic feet per second (cfs) or 1.58 feet on the flow gauge. Median flow for this date is 167 cfs. The water temperature is 65.5 degrees this morning.
Trout in the Smokies are going to be spooky, due to the lower than normal stream flows we have right now. Dress to blend with the forest, stay low, and hide from the trout as much as possible. Wade only if you have to.
I would use a dry and a dropper rig. A foam beetle is a good dry fly choice. Any yellow dry fly that resembles a Yellow Sally Stonefly is another dry fly I would select. That could be a small Yellow Stimulator, Yellow Neversink Caddis, Yellow Elk Hair Caddis or any other small yellow stonefly pattern. A Green or Pink Weenie would be a good choice as a dropper. A small Bead Head Pheasant Tail is another.
The trout will be hungry, thanks to the water temperatures holding in their preferred range in the mid to high elevations. Water temperatures in the very low elevations have been warming to above 70 degrees late in the day. Fish somewhat higher and the temps should be fine.
I would fish the upper Middle Prong of Little River, East Prong above Metcalf Bottoms, Lynn Camp Prong, upper West Prong or Thunderhead Prong. There are many hundreds of miles of mid to high elevation streams to choose from in the Smokies.
Lowland river fishing could be slower as the water levels fall. Go early, late or fish the shaded water. I would use poppers or floating foam flies.
If you want to fish a lake today, you should be there now. Or, go late today when the sun is off the water. Poppers and streamers will work for largemouth and smallmouth bass. Threadfin shad patterns may also catch both species.
Bluegill and shellcracker fishing is probably fine but you need to fish early or late for topwater popper fishing. You can fly fish for sunfishes using a Rubber Legged Dragon or a similar weighted nymph. Cast then wait until they sink. Then, slowly retrieve. This can be a great tactic for catching the larger bluegill or shellcrackers. And, you might catch other gamefish too. We have caught a lot of bass while fly fishing for bull bluegill.
Tailwater fishing for trout and smallmouth bass has been good. Generation schedules are good for wading or boating anglers at some dams today. Visit the TVA website from the links below to find a suitable generation schedule to plan your day.
This is going to be a nice day. After I finish this report I'm going to wash more windows. It is really cool outside this morning.
Paula is coming to the shop every morning to water the flowers we planted last week. I've got a feeling she won't have to do that later this week.
The huge construction dumpster next to the shop will remain for a couple of weeks or more. We are literally "cleaning house" at LRO. And, we are working on the landscaping, and piling the remains in the dumpster.
At mid-month, Mike and his crew will be painting our building again. The front of the store which has always been exposed wood, will then be the off-white color you see on our rafters and eaves. Jack and I painted the front of the building last year, so Mike won't be painting that, except for the entry overhang and posts.
Business is very good. We are all happy about that.
Go fishing today if you can. Hopefully you are out there now.
Have a great day and thank you for being here with us.
Byron Begley
June 4, 2019
Respond to: byron@littleriveroutfitters.com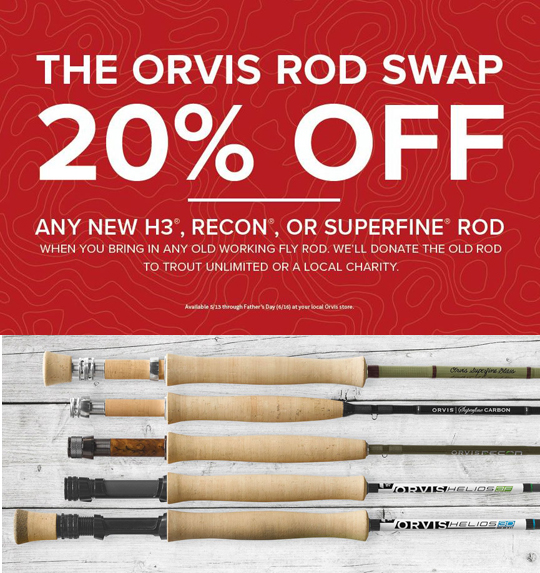 Orvis is doing their Rod Swap promotion again this year. The idea is very simple. Just bring us a functional fly rod and you receive 20% off the regular price of an Orvis Helios3, Recon or Superfine series rod. The rod you bring needs to be in usable condition as it will be donated to a non-profit fishing organization.
The online store won't give you credit for this so if you want to do this via the mail please give us a call and we'll get it all set for you. The promotion begins today and runs all the way till Father's Day. If you want a great rod at a great price this is the perfect opportunity.