If you do not see today's Fishing Report, please refresh your browser to empty your cache.
Welcome to the Fishing Report from Townsend, Tennessee in the Great Smoky Mountains. At 7:09 am, the temperature outside is 67 degrees.
High humidity has moved into our region. Rain and thunderstorms are predicted today and every day through the weekend. Some storms could be strong to severe. Heavy rain is possible in these scattered thunderstorms.
The chance for thunderstorms is very high Friday, Saturday and Sunday, 80% to 90%. I think it is safe to say, we are going to get some rain and we do actually need some.
Tennessee Valley Authority (TVA) has ramped up generation at the major dams on the Tennessee River. TVA is doing this to create water storage as they anticipate the chance for heavy rain in the Tennessee Valley.
Little River is flowing at 100 cubic feet per second (cfs) or 1.57 feet on the flow gauge. Median flow for this date is 166 cfs. The water temperature is 68 degrees this morning.
It is overcast right now. This is a good morning to be fishing in the Smoky Mountains. Dry flies, nymphs or a combination of both will work. I would use yellow dry flies that somewhat mimic the Yellow Sally Stonefly. Those patterns include, Yellow Stimulator, Yellow Neversink Caddis, Yellow Elk Hair Caddis, Rob's Hellbender and other Yellow Sally Stonefly Patterns.
A good sub-surface fly to use is a Weenie, in the green or pink version. Use them as a dropper off your dry fly or fish them weighted and alone.
Terrestrials are also good choices. It is hard to beat a black foam beetle during the summer months.
You may be able to squeeze in fishing time on some tailwaters today. Check the TVA website to determine if your favorite river is fishable and when.
I would love to be on a lake this morning, fly fishing for smallmouth bass, largemouth bass, bluegill, shellcrackers, or anything else for that matter. I love overcast days on the lakes.
I designed an e-mail advertisement and it was sent to thousands of our customers yesterday. The e-mail was advertising Syndicate Pipeline P2 Pro European nymphing competition rods. You can see the web version of this e-mail by CLICKING HERE.
Right after the e-mail was sent, we got an order for one online and there may have been other orders later in the day.
I also got some e-mails from customers, telling me about their excitement for Euro Nymphing, fishing stories and rigging methods. I'm excited too. In fact, I am getting a Syndicate 10 foot 3 weight for my upcoming birthday.
Euro Nymphing is not new. I have always called it "Short Line Nymphing", something I learned in the early 80's. When I moved to Townsend, I found the locals here call it "High Sticking". Basically, you are fishing without a strike indicator. Your leader is tight to your rod so you can feel the ticks and strikes. And, you just cast short and move your rod tip along as the nymphs drift below.
We know that this method of fly fishing for trout is very popular throughout the world.
Competition fly fishing made this method widely known and accepted as a very good way to catch trout.
Fly fishing teams representing the US and other countries have their own adaptation to this method. Those teams include Poland, Spain, Czechoslovakia, France, Ireland, United States and others.
What interests me most is the rigging and the flies. I set up a Euro Nymphing department in our fly tying department. It is made up mostly of barbless hooks made specifically for Euro Nymphing. Most are made by Hanak, a Czech company. Others are made by Tiemco, Umpqua, Daiichi and Fulling Mills. Many are jig hooks. Others are not.
Additionally, I added a large selection of various tungsten slotted beads in many sizes and colors.
I was immediately surprised at how well these items are selling in the tying department.
So, I'm going to start tying flies on these hooks using the beads for weight.
Rigging the line and leaders is even more fascinating to me. I am learning more about what these professional fly fishermen are doing to compete, using their line/leader rigs. And now, I am figuring out why they developed these methods. It is starting to make sense to me.
I am still going to call what I do "Short Line Nymphing". But, from now on, I'll do it differently and hopefully be more effective at catching trout on nymphs.
Have a great day and thank you for being here with us.
Byron Begley
June 5, 2019
Respond to: byron@littleriveroutfitters.com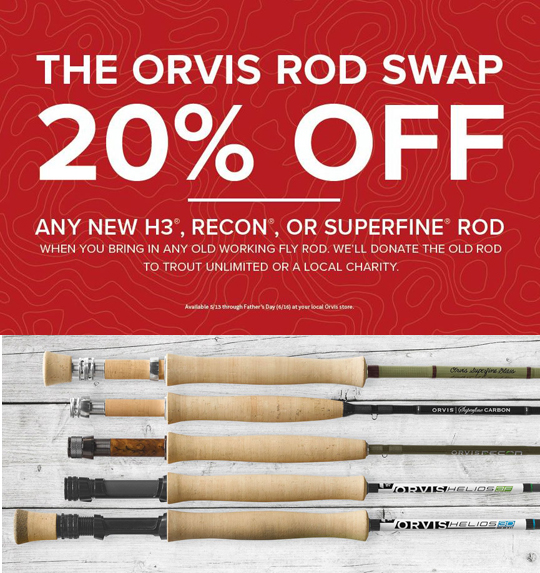 Orvis is doing their Rod Swap promotion again this year. The idea is very simple. Just bring us a functional fly rod and you receive 20% off the regular price of an Orvis Helios3, Recon or Superfine series rod. The rod you bring needs to be in usable condition as it will be donated to a non-profit fishing organization.
The online store won't give you credit for this so if you want to do this via the mail please give us a call and we'll get it all set for you. The promotion begins today and runs all the way till Father's Day. If you want a great rod at a great price this is the perfect opportunity.