If you do not see today's Fishing Report, please refresh your browser to empty your cache.
Welcome to the Fishing Report from Townsend, Tennessee in the Great Smoky Mountains. At 7:06 am, the temperature outside is 68 degrees.
We got some rain in area yesterday. The Knoxville Airport reported .26" fell there. We got .37" in Townsend.
There is more rain coming. Today, the chance is only 50%. Tomorrow through Monday the chances range from 70% to 90%. Rain could be heavy at times. Localized flooding is possible over the next few days.
Little River is flowing at 139 cubic feet per second (cfs) or 1.73 feet on the flow gauge. The river is receding from showers in the watershed that occurred after midnight. Median flow for this date is 164 cfs. The water temperature is 67.3 degrees this morning.
The Little Pigeon River watershed got a shot of rain before midnight. Flow there is 252 cfs, 1.69 feet, compared to median flow of 300 cfs.
It rained in the Oconaluftee River watershed at about midnight. The river is receding to about median flow right now. Flow is 367 cfs, 1.71 feet, compared to median flow of 368 cfs.
Tellico River got a small amount of rain too. Flow there is 156 cfs, 1.17 feet, compared to median flow of 157 cfs.
The flow at Cataloochee Creek rose late last night but it has receded to about median flow. Flow there is currently 85.2 cfs, 2.49 feet, compared to median flow of 74 cfs.
It is overcast. This may be a perfect day to fish in the Smokies. I guess there is a chance you might find stained water but I doubt it. If the water is a little off color, that would be good. I am looking at the mountains right now, wishing I were fishing.
There is a 50% chance you may get rained on today and streams could rise and be stained. I would take that chance but I live close by. If you live a long distance from here, it may not be worth the trip.
I don't know about this weekend. Frankly, the weather does not look good. These storms could miss us or they could blow out the rivers. Only time will tell. I don't like 90% odds. I'm betting on rain and plenty of it.
If the water is stained slightly, use nymphs. If not, try dry flies. Good dry fly pattern choices include Yellow Stimulator, Yellow Neversink Caddis, Rob's Hellbender, Yellow Elk Hair Caddis or any yellow sally stonefly pattern.
I would use a Green Weenie for my dropper or fished alone if the water is clear. If the water is stained, my choices for a nymph would be a bead head Prince, Tellico or Pheasant Tail.
You might try a lowland river this morning. Overcast days are perfect days for fly fishing. You might find your favorite river stained but I think the chances are low, for now.
And, there are many tailwaters in Tennessee to fish. Visit the TVA website to see the options available today. I quickly looked at several, including the Caney Fork, one of my favorites. There are some opportunities on some.
It looks like a very good lake fishing day. We fly fish in shallow water. It is overcast. You might be able to fish all day on a lake. Or, you might have to run the ramp if a thunderstorm comes around. Watch for thunderheads and act accordingly.
Have a great day and thank you for being here with us.
Byron Begley
June 6, 2019
Respond to: byron@littleriveroutfitters.com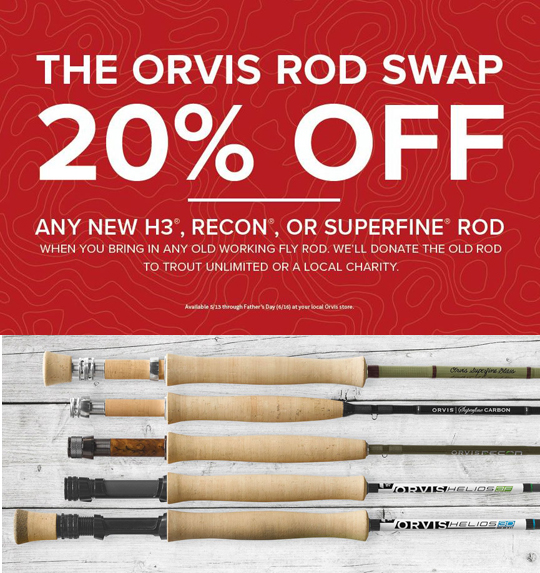 Orvis is doing their Rod Swap promotion again this year. The idea is very simple. Just bring us a functional fly rod and you receive 20% off the regular price of an Orvis Helios3, Recon or Superfine series rod. The rod you bring needs to be in usable condition as it will be donated to a non-profit fishing organization.
The online store won't give you credit for this so if you want to do this via the mail please give us a call and we'll get it all set for you. The promotion begins today and runs all the way till Father's Day. If you want a great rod at a great price this is the perfect opportunity.